User:Marasmusine
From D&D Wiki
Need a rewrite?
[
edit
]
My job list at the wiki is huge, I've got maintenance tasks, the magazine to edit, all the pages I want to finish and start. Sometimes I'll see another editor's contribution, and its a good idea, but it's a mess. If I had infinite time, I would fix it up there and then, but as it is I put a "wording" template on it and move on. I'll fix something if asked, and I enjoy doing this, but it's taking time away from the other things I want to do.
What about this idea? I can rewrite your 5e article, bring it up to standards, for a small fee. 50 pence (70 cents?) for a small page like a magic item or creature. 1 GBP ($1.40) for a class. Pay via paypal (my email is duncan_timiney@hotmail.com)
I've created a Gig at Fiverr: I will make you a Dungeons and Dragons monster. I doubt it will be of interest, but let's see :)
Rewrites I have done
Plug for other projects
[
edit
]
https://marasmusine.itch.io/crystal-orb-adventures
I'm trying to make a fantasy adventure game. This is a prototype. Let me know what you think.
Updated to P0.0.4 (21st Feb 2017) - bugfixes, muskets and rapiers.
General stuff
[
edit
]
My Settings
[
edit
]
Permanently Works in Progress
In the works
[
edit
]
I seem to have bitten off more than I can chew.
My 5e stuff
[
edit
]
Much of this stuff is just to test the templates/preloads I made.
My 4e stuff
[
edit
]
My 3.5e Stuff
[
edit
]
In the works, will probably never finish
[
edit
]
My images
[
edit
]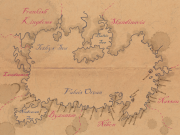 Useful stuff
[
edit
]
Code for an attributed 4e image: Right-justified:

{| class="4e" style="float:right"
!http://farm6.staticflickr.com/blah/blah.jpg
|-
|[http://www.flickr.com/photos/blah/blah/ Title and Attribution]
|}

Centre-justified:

{| class="4e" style="margin: 1em auto 1em auto;" 
!http://farm6.staticflickr.com/blah/blah.jpg
|-
|[http://www.flickr.com/photos/blah/blah/ Title and Attribution]
|}

Special Recognition
[
edit
]
WikiCookie                            
I give you this WikiCookie for your complete reworking of Multitasker (3.5e Feat), making it more usable and much more adaptable for individual campaigns. You took a basic concept and made it into something so much more! Thanks!  

Hooper

  talk  

  contribs  

  email  

22:44, 30 August 2014 (MDT)
Barnstar                            
I give you this barnstar for improving, reviewing, and removing a lot of pages. Thanks a lot for your help on those pages! --Green Dragon (talk) 09:35, 16 July 2012 (MDT)
Anti-Vandal Barnstar            
I give you this anti-vandal barnstar for spotting and removing vandalism diligently. Thanks for helping upkeep D&D Wiki! --Green Dragon (talk) 01:16, 21 August 2013 (MDT)
The Tireless Contributor Barnstar
For tens of thousands of edits, thousands of deletions, thousands more useful things. For years, you've been a reliable and an amazing contributor to this community in all respects. Thank you. --SgtLion (talk) 05:41, 12 October 2015 (MDT)