Lunar (3.5e Deity)
From D&D Wiki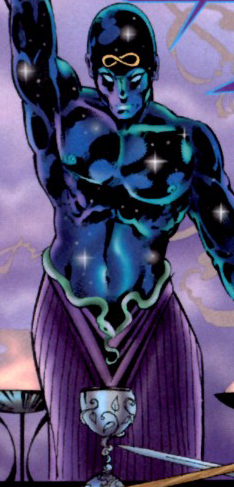 A symbol of the night, himself, Lunar takes the form of the moon when seen from the Material Plane. The nemesis of both Helios Majora and Helios Minoris. His avatar is that of a tall, slender man, cloaked in the very night sky, itself.
His appearance over the many planes of Tirr is the harbinger of night, taking his turn to preside over the planes from Majora, who begrudgingly accepts. Minoris, however, interferes with his night every two days, allowing those who walk the planes to enjoy a period of twilight, while causing Lunar trouble to no end.
Lunar's followers are typically stoic, reverent and observant of the world around. Like their god, they are compelled to cast an unerring eye down over the world, even in the most impenetrable of darkness. They believe that the night is their ally, as it covers them in shrouds and protects them from their enemies. Believers typically shun the light, and often dedicate themselves to nocturnal sleep cycles, especially when part of larger monasteries and clergy.
As far as spells go, however, those devoted to Lunar find themselves with a particular affinity to Darkness spells, while with a disdain, and even inability towards Light spells. Clerics are even forbidden from the latter!
Clergy and Temples
[
edit
]
Much like the temples of Helios Majora, those of Lunar are often left open in the ceiling, allowing for better worship as Lunar passes overhead each night. While traditional, public temples are usually the norm, followers of Lunar are unique in that often these temples are private and public access is rarely allowed. It is said that only those children left on their steps at birth are taken inside, and raised under the teachings of Lunar.
Often, Lunar's temples breed Rogues, Assassins, Ninja, and other stealth and sneaking sort. This, combined with the type of subdued mindset and dogma that the followers of Lunar tend to breed, provides some of the most devoted and incredibly efficient services of stealth and serenity known to the world.
Pantheon
[
edit
]
Lunar has seat as one of the Lesser Thrones of the Pantheon of Tirr. He is closely aligned with Fate and Hel in their more moderate views, and while Majora and Minoris tend to oppose him, he does not begrudge them, or act against them in any way; He is only concerned with his goals.
---
Back to Main Page → 3.5e Homebrew → Deities → Intermediate
Back to Main Page → 3.5e Homebrew → Campaign Settings → Tirr Campaign Setting