Jun Rin Province (Ilarion Environment)
From D&D Wiki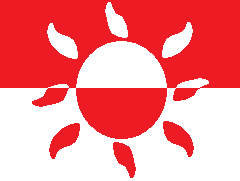 Capital
X (Pathfinder Environment)
Government
X
Leaders
X
Deities
Jin Feng, Yin Tuzi
Language
Population
20,214,000
Diversity
Greetings are always formal and the oldest person in a group is greeted first. Most greetings include a rhetorical invitation to dine or take tea together. If a meal or tea is taken it is often in a restaurant or teahouse. Sharing food in the home signifies equality, and people of higher rank are never invited to dine in one's home.
Jun Rin's people are friendly and courteous. Social relationships derive importance from the belief that one cannot do anything alone and everyone requires the help and cooperation of others. One's name and reputation have currency.
Geography
[
edit
]
The Area
[
edit
]
Geographical Features
[
edit
]
X
X
Government
[
edit
]
Foreign Relations
[
edit
]
Crisania: There have been ongoing border skirmishes in the Wolf's Den Pass for the last two hundred years. In the last twenty-five years, the trade road has been open more often than it has been closed. (Enemy, Cessation of hostilities)
Thebia: Trade with Thebia is good. (Neutral, Peace)
Fjallheim: Border relations are tense but not violent, trade is fair. (Enemy, Cease-fire)
Halcyon: Border relations are good, trade is fair. (Neutral, Peace)
Dao Ming: Trade is good. (Neutral, Peace)
Military
[
edit
]
X has a standing army of X,000 soldiers – mostly infantry and cavalry – and a reserve pool nearing X,000 persons in times of emergencies.
Trial Procedure
[
edit
]
Crimes and Punishments
[
edit
]
Arson:
Assault:
Forgery:
False testimony:
Kidnapping or unlawful detainment:
Murder:
Rape:
Slave revolt:
Theft:
Treason:
Unlawful assembly:
Unlawful use of magic or use of arcane magic:

Banishment:
Crucifixion:
Execution:
Fines:
Incarceration:
Physical Labor:
Public flogging:
Slavery
[
edit
]
History
[
edit
]
Society
[
edit
]
Mannerisms and Customs
[
edit
]
E
Marriage and Family
[
edit
]
Clothing
[
edit
]
Architecture
[
edit
]
Entertainment
[
edit
]
Gambling
[
edit
]
Festivals
[
edit
]
Common Festivals
[
edit
]
Spring Equinox -
Summer Solstice -
Autumn Equinox -
Winter Solstice -
Illness, Death and the Pyre
[
edit
]
Sickness and Medicine
[
edit
]
Education
[
edit
]
Cuisine
[
edit
]
Common Ingredients
Meat:
Dairy products:
Herbs and spices:
Grains:
Legumes:
Vegetables:
Fruits:
Nuts:
Greens:
Dressings and sauces:
Commerce
[
edit
]
Imports:
Exports:
Currency:
Taxation:
The following are regional traits for X:
X:
The following is a list of gear commonly available in X:
Weapons:
Armor:
Adventure Gear:
Regions
[
edit
]
Marriage and Family
[
edit
]
There are three ways to marry in Jun Rin. The first is a traditional arranged marriage, negotiated between the families overseen by a matchmaker. A bride price and dowry are exchanged, the bride and groom meet for the first time on the day of the wedding and each family holds its own wedding feasts on different days. The wife takes up residence in her husband's household.
The second involves adopting a pre-adolescent, usually infant daughter as a future bride for one of their pre-adolescent, usually infant, sons, and the children are raised together. The marriage only occurs after both have reached puberty. The wedding can range from a large banquet on par with traditional arranged marriage to a bow to the ancestors and a slight change in the family's sleeping arrangements. This type of marriage can occur among any caste or level of wealth but is particularly common among poor and rural families.
The third form of marriage involves a man marrying into his wife's family, because the groom has no property, and the bride's family has no male heir.
Architecture
[
edit
]
Clothing
[
edit
]
Cuisine
[
edit
]
Jun Rin's cuisine relies on an abundant array of seasonings for flavor. Pork, chicken, rice, and soy are very common ingredients. Many dishes are steamed, fried or served on a skewer.
Meat:
Dairy products:
Herbs and spices:
Grains:
Legumes:
Vegetables:
Fruits:
Nuts:
Greens:
Dressings and sauces:
Breakfast
[
edit
]
Desserts
[
edit
]
Beverages
[
edit
]
Defense
[
edit
]
Commerce
[
edit
]
Imports:
Exports:
Currency:
Taxation:
Slavery
[
edit
]
---
Back to Main Page → Pathfinder Homebrew → Campaign Settings → Ilarion → Nations → The Dao Ming Empire