Hong Fai Province (Ilarion Environment)
From D&D Wiki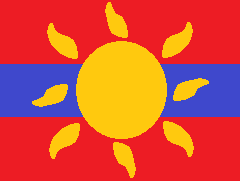 Capital
Luugyn Khot
Government
Oligarchy
Leaders
Heads of 17 clans, 1 Daimio
Deities
Jin Feng, Yin Tuzi
Language
Duu, Yun Shen
Population
19,521,000
Diversity
Méng clans come together to form a political and military council called a Kurultai (literally "meeting" or "assembly") where one of the clan leaders is elected as Khan. The Khan with the most territory is named Daimio and represents the province to the Empire.
Ovoos are sacrificial altars of the shape of a mound that are used for worship by the Méng. Every ovoo is thought as the representation of either a nature spirit or the spirit of an ancestor. Shaman (böö if male, udgan if female), as well as nobles and clan leaders, can communicate with the spirits through rituals and sacrifices the spirit can then grant blessings, heal the sick or injured, or speak to the gods on the shaman's behalf.
Festivals often involve horse racing, wrestling, and archery competitions. Believing the race to be a test of the animal's and not the rider's ability, young children are often the jockeys. The horse holds a high position in many Méng tales and legends, which are told by storytellers or acted out by skilled performers. Families will travel for days to be able to participate.
The Méng are well-known for their hospitality and pastoral, nomadic lifestyle. When welcoming guests they leave a platter of homemade cheeses, dumplings, and sweets on the table.
Geography
[
edit
]
The Area
[
edit
]
Geographical Features
[
edit
]
X
X
Mountains Almost no permanent settlements exist in the mountains; only a few temples or ancient strongholds. The people live by raising goats and sheep, and gathering wild edibles. The roads are often narrow and treacherous. Hills There are permanent settlements along the major roads, no closer together than a week's travel on horse back. The people raise pigs and sheep, and farm wherever there is arable soil. The roads are generally wide enough for a wagon. Peninsula There are permanent settlements every few days travel. There are many farms and ranches raising cattle, pigs and sheep, fishing villages dot the coastline.
Government
[
edit
]
Foreign Relations
[
edit
]
Crisania: There have been ongoing border skirmishes in the Wolf's Den Pass for the last two hundred years. In the last twenty-five years, the trade road has been open more often than it has been closed. (Enemy, Cessation of hostilities)
Thebia: Trade with Thebia is good. (Neutral, Peace)
Fjallheim: Border relations are tense but not violent, trade is fair. (Enemy, Cease-fire)
Halcyon: Border relations are good, trade is fair. (Neutral, Peace)
Dao Ming: Trade is good. (Neutral, Peace)
Military
[
edit
]
X has a standing army of X,000 soldiers – mostly infantry and cavalry – and a reserve pool nearing X,000 persons in times of emergencies.
Trial Procedure
[
edit
]
Crimes and Punishments
[
edit
]
Arson:
Assault:
Forgery:
False testimony:
Kidnapping or unlawful detainment:
Murder:
Rape:
Slave revolt:
Theft:
Treason:
Unlawful assembly:
Unlawful use of magic or use of arcane magic:

Banishment:
Crucifixion:
Execution:
Fines:
Incarceration:
Physical Labor:
Public flogging:
Slavery
[
edit
]
The Méng once had a thriving slave trade, but little use for unskilled slaves. When the Empire outlawed slavery the Méng stopped taking slaves.
History
[
edit
]
Society
[
edit
]
Mannerisms and Customs
[
edit
]
Young people participate in herding activities regardless of gender. Older persons care for animals at the campsite and do household chores including repairing tools, preparing hides, sewing, cooking, and childcare.
In permanent settlements, the divide between genders is more pronounced. Women work in the home and men work out in the city. Boys and girls attend schools and receive basically the same education.
Marriage and Family
[
edit
]
The Méng live in large extended family groups under the rule of the eldest able-bodied male. Daily chores are divided evenly among family members. No one person's work is considered more important than another's.
Wedding ceremonies traditionally include the hand-over of a new ger to the marrying couple.
Clothing
[
edit
]
Architecture
[
edit
]
Gers are a portable, round tent covered with animal skins or felt. The frame consists of one or more expanding lattice wall sections, a door-frame, straight roof poles, a crown and columns to support the crown. The frame is held together with ropes. They can typically be set up in about two hours.
Permanent structures are made of stone, brick, and wood beams and planks. The roof is directly supported by the walls and pillars. Most buildings are a single story and resemble gers. Decorations often take the shape of marquees and circles.
Entertainment
[
edit
]
Gambling
[
edit
]
Festivals
[
edit
]
Common Festivals
[
edit
]
Spring Equinox -
Summer Solstice -
Autumn Equinox -
Winter Solstice -
Illness, Death and the Pyre
[
edit
]
Sickness and Medicine
[
edit
]
Education
[
edit
]
Cuisine
[
edit
]
Hong Fai cuisine is rooted in the Méng's nomadic lifestyle and includes a lot of dairy and meat, but the use of vegetables and spices are limited. Meat (from cattle, horses, yaks, sheep, goats, and wild game) is either eaten plain, used as an ingredient for soups and dumplings or dried for winter. Milk and cream are used to make a variety of beverages, as well as cheese and similar products.
Travelers will find gers marked as guanz at regular intervals near the roadside throughout the province. Guanz are simple restaurants that serve plain dishes cooked in a cast-iron pot on a small stove.
Common Ingredients
Meat:
Dairy products:
Herbs and spices:
Grains:
Legumes:
Vegetables:
Fruits:
Nuts:
Greens:
Dressings and sauces:
Commerce
[
edit
]
Imports: tobacco, rice, wheat flour, sugar, textiles
Exports: copper, livestock, cashmere, wool, hides, coal, green tea, lumber
Currency: Gold, silver and copper coins called tugrik (TUHG reek). They backed by precious metals and silk.
Taxation: Teachers, lawyers, and artists are exempt from taxation. A tax of one sheep from a herd and one sheep from every hundred sheep is to be provided as a charity for the poor and weak. Taxes are always a fixed amount and can be paid in coin or goods.
The following are regional traits for X:
X:
The following is a list of gear commonly available in X:
Weapons: composite bow, daggers, lances with a hook and snare, maces, sabers.
Armor: buckler, chain shirt, leather armor.
Adventure Gear:
---
Back to Main Page → Pathfinder Homebrew → Campaign Settings → Ilarion → Nations → The Dao Ming Empire