Feng Zhin Province (Ilarion Environment)
From D&D Wiki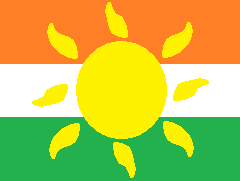 Capital
Moukh Buon
Government
Monarchy
Leaders
1 Daimio, 14 magistrates
Deities
Jin Feng, Yin Tuzi
Language
Garjan, Gā'ina, Yun Shen, Saezuri
Population
19,028,000
Diversity
60% Shī rén, 12% Zìyóu, 9% Rén, 8% Tōmin, 7% Xuilan, 2% Minotaurs, 1% Dwarves, 1% Kumo
The Feng Zhin was founded upon extensive networks of agricultural rice farming communities. A distinct settlement hierarchy is present in the region. Small villages are clustered around regional centers which in turn send their goods to large cities in return for other goods, such as pottery and foreign trade items. Extensive irrigation projects provide rice surpluses that can support a large population.
Respect is a major component of the culture in Feng Zhin. The lesson 'Respect one another' is taught to every individual. All people are considered equal and there is no difference created in terms of caste, creed or sex. Manners are very important. A common greeting in Feng Zhin is to join your hands together at your chest and say "Namaste" or "Namaskar". The young are expected to bow to their elders as well.
The capital city of Moukh Buon and the Daimio's court are famous for grand ceremonies, with many festivals and rituals held in the city. Even when traveling, the Daimio and his entourages created quite a spectacle.
Geography
[
edit
]
The Area
[
edit
]
Geographical Features
[
edit
]
X
X
Government
[
edit
]
Foreign Relations
[
edit
]
Crisania: There have been ongoing border skirmishes in the Wolf's Den Pass for the last two hundred years. In the last twenty-five years, the trade road has been open more often than it has been closed. (Enemy, Cessation of hostilities)
Thebia: Trade with Thebia is good. (Neutral, Peace)
Fjallheim: Border relations are tense but not violent, trade is fair. (Enemy, Cease-fire)
Halcyon: Border relations are good, trade is fair. (Neutral, Peace)
Dao Ming: Trade is good. (Neutral, Peace)
Military
[
edit
]
X has a standing army of X,000 soldiers – mostly infantry and cavalry – and a reserve pool nearing X,000 persons in times of emergencies.
Trial Procedure
[
edit
]
Crimes and Punishments
[
edit
]
Arson:
Assault:
Forgery:
False testimony:
Kidnapping or unlawful detainment:
Murder:
Rape:
Slave revolt:
Theft:
Treason:
Unlawful assembly:
Unlawful use of magic or use of arcane magic:

Banishment:
Crucifixion:
Execution:
Fines:
Incarceration:
Physical Labor:
Public flogging:
Slavery
[
edit
]
History
[
edit
]
Society
[
edit
]
Mannerisms and Customs
[
edit
]
E
Marriage and Family
[
edit
]
Clothing
[
edit
]
Architecture
[
edit
]
Entertainment
[
edit
]
Gambling
[
edit
]
Festivals
[
edit
]
Common Festivals
[
edit
]
Spring Equinox -
Summer Solstice -
Autumn Equinox -
Winter Solstice -
Illness, Death and the Pyre
[
edit
]
Sickness and Medicine
[
edit
]
Education
[
edit
]
Cuisine
[
edit
]
Common Ingredients
Meat:
Dairy products:
Herbs and spices:
Grains:
Legumes:
Vegetables:
Fruits:
Nuts:
Greens:
Dressings and sauces:
Commerce
[
edit
]
Imports:
Exports:
Currency:
Taxation:
The following are regional traits for X:
X:
The following is a list of gear commonly available in X:
Weapons:
Armor:
Adventure Gear:
(bah ahg)
(bahn dahr)
Bhediya
[
edit
]
(buh heh die ee ah)
Ek Tangaavaala
[
edit
]
(ehk tahng ah ahv ah ahl ah)
(gah ahn ah)
(gah ien dah)
Haathee Ke Daant
[
edit
]
(hah ah theh eh keh dah ahnt)
(hie rahn)
Moukh Buon
[
edit
]
(moh uhk buh ohn)
(nah ahg)
(sie eeah ahr)
Sooryoday
[
edit
]
(soh oh ree oh dah ee)
(tehn duh ah)
Udatee Lomri
[
edit
]
(uh dah teh eh lohm rie)
Women enjoy equal status with men in all aspects of life. They marry at a mature age and are usually free to select their own husbands. They can gain wealth and own property. Women often become prominent in the fields of politics, literature, education and religion.
The Bride of the City is a tradition followed in some parts of the province. Women competed for the title; The most beautiful woman wins. It is not considered a taboo; The Bride of the City is respected like a queen, but she is a courtesan or prostitute. The very rich can see her dance and sing; her price for a single night's dance is very high.
Marriage and Family
[
edit
]
Weddings are festive, happy occasions with extensive decorations, colors, music, dance, costumes and rituals. They are typically planned by the parents and other respected family-members. The bride's family provides a dowry, considered the woman's share of the family wealth, to the bridegroom as a daughter has no legal claim on her family's real estate. A dowry typically includes portable valuables such as jewelry and household goods that a bride can control throughout her life.
Extended members of a family will often live together on a large estate. The oldest male member is the head of the family. Since the elders are the driving force for any family, they are loved and respected by every individual in the family. Blessings from elders are taken by touching their feet.
Architecture
[
edit
]
Feng Zhin architecture employs precise geometry and directional alignments to reflect perceived cosmic constructs. They prefer open, symmetry-driven structures featuring geometric shapes. Temples are large, heavily adorned, solid stone structures or, in the north, carve into the sides of cliffs. Most other buildings are much smaller and made of wood. Cities have protective walls, paved streets, public baths, and warehouses.
Clothing
[
edit
]
Cuisine
[
edit
]
In Feng Zhin They eat mainly wheat, rice, chickpeas, and lentils. Many dishes are vegetarian. What little meat is used in cooking is primarily lamb, goat, chicken or fish. Curries, Chutneys, and spices are used generously. The most important and frequently used spices and flavourings are anise, bay leaves, black mustard seed, chilli pepper, cinnamon, coriander, cumin, fennel, garlic, ginger, mint leaves, nutmeg, rose petal essences, saffron, and turmeric.
Many dishes are cooked in oil; peanut oil is popular in the north and west, mustard oil in the east, sesame oil in the south and coconut oil along the coasts.
Flatbreads or naan bread are served with every meal. Tea is the drink of choice, always served hot and plain.
Meat:
Dairy products:
Herbs and spices:
Grains:
Legumes:
Vegetables:
Fruits:
Nuts:
Greens:
Dressings and sauces:
Breakfast
[
edit
]
Desserts
[
edit
]
Beverages
[
edit
]
Defense
[
edit
]
Feng Zhin has a standing army of 70,000 soldiers, a navy of 35,000 and a reserve pool nearing 100,000 persons in times of emergencies.
Commerce
[
edit
]
Imports: copper, gemstones, gold, horses, glassware, lead, mother of pearl, silver, and wool.
Exports: bone or shell inlaid furniture, bronze, clarified butter, ebony, grain, honey, jewelry, livestock, medicinal herbs, pearls, perfumes, pickled fruits, pickled vegetables, pigments, spices, terracotta pots, textiles, tortoise shell, wine, and wood.
Currency: Older currencies are still used in Feng Zhin. Most merchants will accept them, thou there may be a fee to do so. Cowry shells, as well as copies of cowry shells, are still used in rural areas. Caches of square, metal seals from the old kingdom are still found from time to time and are weighed to determine value.
Silver punch marked coin, issued by merchant guilds and often bearing nature motifs, have a standard weight (1 ounce) and are an oblong shape.
Taxation: The main tax for the province is a general tax levied on every member of a family. There is a sales tax of 10% placed on all goods; additional sales tax is levied on special goods such as jewels, land auctions, and immovable objects.
Tolls are charged for water ferries, entrance into a city (additional tolls tax are levied against undesirable foreigners), use of roads and use of harbors.
Duties (between 4% and 20%) are placed on goods imported from foreign lands, Marriage and religious commodities are except.
Slavery
[
edit
]
There have always been slaves in Feng Zhin, now there are very few and most of them work as house servants. Typically they are debtors. They receive a wage but have to pay for room and board, and their debt can be sold.
The following is a list of gear commonly available in Feng Zhin:
Weapons:Bagh Nakh or tiger's claw (1d2, x2, 1/2 lbs., light, slashing, exotic, monk), battleaxe (parashu), bow, long, bow, short, javelin, mace, heavy (Gada), punching dagger (Katara), saber (Talwar), sling, spear
Armor: chainmail, chain shirt (zirah), Four-mirror armor (char-aina), padded armor, shields, studded padded armor (chilta hazar masha or coat of a thousand nails; +2 AC, +7 max Dex, Armor Check Penalty 0, Arcane Spell Failure Chance 10%, 15 lbs., light)
Adventure Gear: Basket, Wicker, Bedroll, Cooking Kit, Flint and Steel, Grooming kit, Hand Saw, Mess Kit, rope, silk, Shovel, Soap, stove can, teapot, Trail Rations, Turf Cutter, Waterskin.
---
Back to Main Page → Pathfinder Homebrew → Campaign Settings → Ilarion → Nations → The Dao Ming Empire