Spirit Walker (5e Race)
From D&D Wiki
Spirit Walker
[
edit
]
Physical Description
[
edit
]
<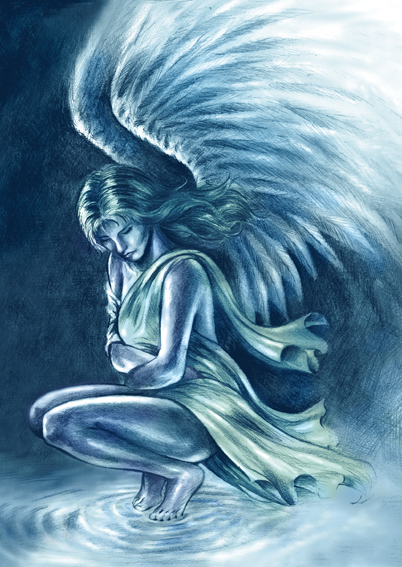 >
<Made by Arco at visualmatter.com>
Spirit Walkers in their true form look like blue ghosts of angels from the Ethereal plane of existence, however they appear to all now as a Human/humanoid creature. The only way creatures can see through this disguise is with Darkvision or Truesight(in any form). Unlike other races, Spirit Walkers are not gender role specific and do not feel a need to identify as one or the other because they can grow male/female organs when they are mutually ready to start procreating. When in the Ethereal plane they are represented as their ghostly blue counterpart.
History
[
edit
]
Spirit Walkers were created at the beginning of the worlds timeline by gods from the ethereal plane to help guide the unfortunate less than intelligent creatures to wisdom and peace. They often persuaded humanoid creatures to mate with them, becoming part of the ancestry of many human like races. Despite having weird starting interactions with the mortal plane of existence, Spirit Walkers now draw on personalities of Humans, and are similar to them in every way of personality, not feeling excluded because of abnormalities given to them upon birth.
Spirit Walker Names
[
edit
]
Names of Spirit Walkers will be from anything to everything because they only need a name for self identification, however they prefer to take generic names to blend in more with the rest of species.
Spirit Walker Traits
[
edit
]
Ability Score Increase. Charisma +2, Wisdom +1
Age. Spirit Walkers can only live up to 100 years, then they are reincarnated in a new form with a different mind, however they can be chosen by ethereal plane gods to live longer.
Alignment. Spirit Walkers are usually Lawful Neutral, as they were originally created to make peace between the different creatures of the land until they were wise enough for themselves.
Size. Your size is medium, although you can choose for it to be small or big when trying to fit through small spaces because of your physical change abilities.
Speed. Your base walking speed is 25 feet. However at 5th level you can grow small wings which have a fly speed of 35 feet but you cannot fly higher than 10 feet(these wings change your size to big).
Fleeting movement. When you roll for initiative, you can immediately move 5 feet. At 10th level this increases to 10 feet and at 15th level this increases to 15 feet.
Glowing aura. You have disadvantage on Dexterity (Stealth) checks, because of blue light glowing around you.
Spellborn. When you reach 5th level you can cast the counterspell spell. When you reach 8th level you can cast the guardian of faith spell. You can cast each spell once per day, regaining their use at dawn.
Languages. Common, and one provided by your subrace.
Subrace. Elvish ancestry, Dwarfish ancestry and Automaton ancestry

Elvish Ancestry
[
edit
]
Darkvision. You can see in the dark, as you have adapted that trait from the elves you have met in previous lives
Elfish. You can speak Elfish as an additional language

Dwarfish ancestry
[
edit
]
Hard bargainer. You have advantage on rolls when haggling with shopkeepers for a better price
Heave. You can throw throwing axes in increments of 10/30
Dwarfish. You can speak Dwarfish as an additional language

Automaton ancestry
[
edit
]
Realm Guard. You gain advantage on all perception checks when standing completely still.
Shield Block. While wielding a shield, you have advantage on Strength saving throws.
Machinetalk. You can communicate with to Constructs with an Intelligence score of of more than 8.

Random Height and Weight
[
edit
]
Table: Spirit Walker Random Height and Weight

| Base Height | Height Modifier | Base Weight | Weight Modifier |
| --- | --- | --- | --- |
| 3′0″ | (1d4')+(1d10)" | 60lb. | × (4d20) lb. |
---