Raniide (5e Race)
From D&D Wiki
Raniide
[
edit
]
Physical Description
[
edit
]
Raniides are small sentient crustaceans, about the size of an average gnome. They have an upright stance, with 4 of their 8 limbs serving as legs, and 4 other used as hands. Their pincers are mainly used to cut materials, and, when unused, are kept folded in front of their face, just beneath the eyes. A raniide's shell is usually a shade of bright orange, but other colors are common, most often in warm hues. They like to wear clothing that does not hamper their movements, such as tunics or short togas.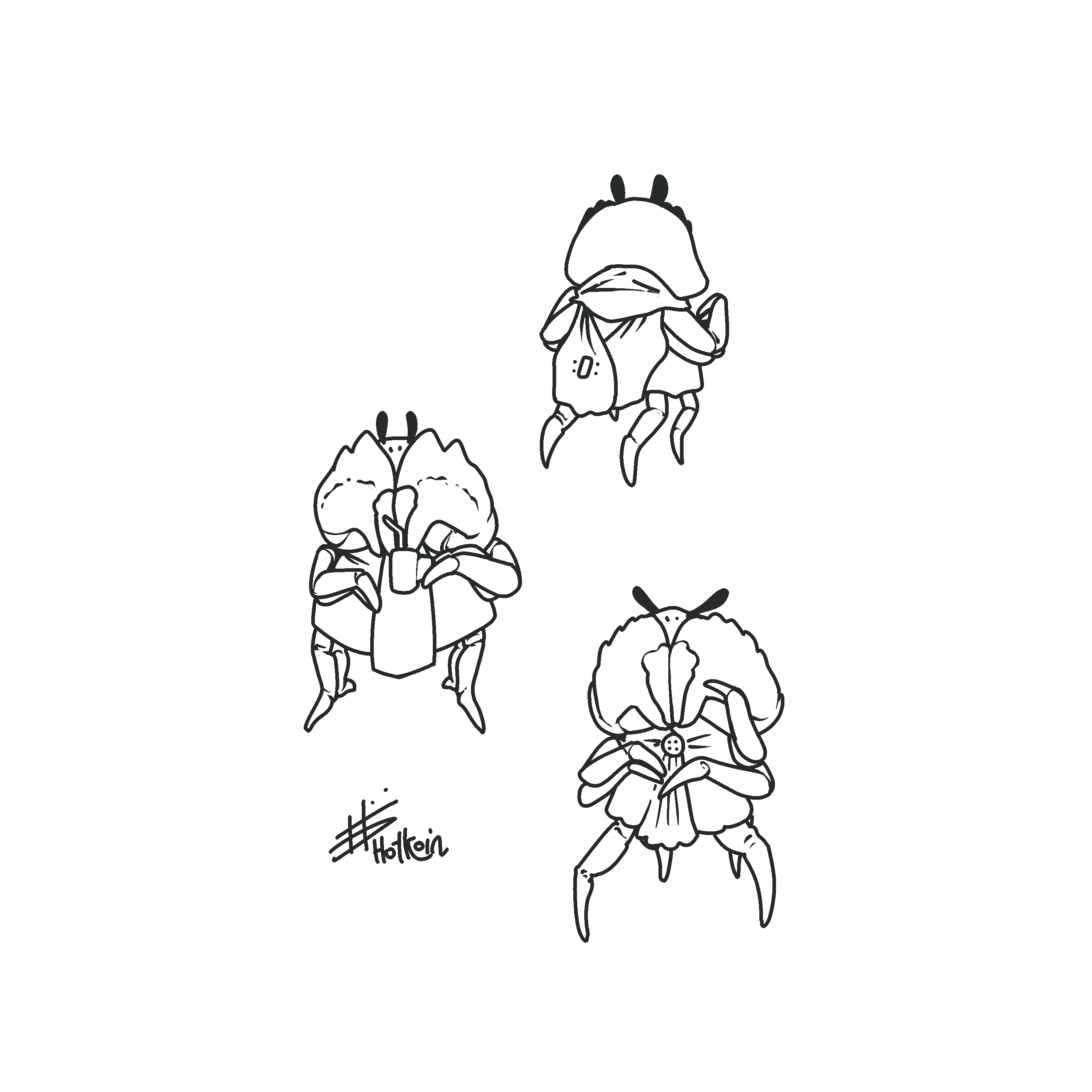 History
[
edit
]
Befitting their crustacean looks, raniides hail from deep within the sea. They were eventually driven away from their homeland more than 800 years ago, for at the time a war was raging on that tore the ocean apart all the way down to the abyss. Being fundamentally pacifistic, the raniides decided to go closer and closer to the surface, until they settled on land for good. This, however, was not to the liking of neighbouring communities, who tried many times to drive the raniides away. But, while pacifistic, the raniides always were a crafty lot. As so, they were able to keep their aggressors at bay through many tricks and traps. This lasted until they were approached by the surrounding communities, which begrudgingly proposed a peace treaty. Said treaty specified that in exchange of the raniides' craftsmanship, their neighbour would protect them. The treaty was signed and enacted right away, but the raniides thought that they needed to know the surface world better in order to prevent such things from happening again. As such, many of them made themselves into nomadic craftsmen, and many others chose to go adventuring across the land, always eager for discoveries.
The raniide society is shaped in such a way that religion is not widespread in the least, given the focus on creating and exploring. However, some raniides like to pray to divinities which pertain to those domains.
Society
[
edit
]
Raniides usually live close to the seaside, on coasts and beaches, though some communities live nearby lakes. They build simple but resistant wooden houses, usually boxy in shape with a flat roof. Craftsmanship is at the core of their society, and as such, every one of them is at the very least a good artisan of their own right, being trained from the age of 10 onwards. Raniide communities are organized in clans, with most of them specializing in a given discipline. It is common to find 5 or 6 clans in one village. However, while their craftsmanship may differ, raniide clans are always eager to help one another. The raniides' craftsmanship prowess is made very clear by their galleon-worshops: gigantic, hamlet-sized boats that serve as much as workplaces as they serve as homes. Those galleons are what people most often think of when they hear about raniides, to the point where one could be fooled into thinking that raniides only live on them. They are, nonetheless, a staple of their knowledge and prodigious handiwork.
Raniide Names
[
edit
]
Raniides can speak common fluently, but the names they most often use harken back to a time where they were struggling to adapt to terrestrial life. As such, they commonly use Ss and Ks sounds, befitting the clicks and whistles that their ancestors used.
Male: Kessen, Olek, Samos, Suda, Coti
Female: Salika, Nessana, Calis, Akuu, Stega
Raniide Traits
[
edit
]
Crafty crustaceans with a passion for creation.
Ability Score Increase. Your Dexterity score increases by 2 and your Intelligence score increases by 1.
Age. Raniides live a surprisingly long life, with most of them easily going beyond 600 years. They reach their physical maturity at 10 years old, and molt once every 5 years, a process that generally takes 3 days to be completed.
Alignment. Due to their lives being rooted in creativity, raniides lean most towards Neutral, Neutral Good and Chaotic Good.
Size. Raniides are between 3 and 4 feet tall, rarely taller. Your size class is Small.
Speed. Your base walking speed is 25 feet. You have a swimming speed of 30 feet.
Submarine Sight. You take no penalty to checks made using your vision while underwater. Additionally, while underwater, you can see in dim light within 60 feet of you as if it were bright light, and in darkness as if it were dim light. You can't discern color in darkness, only shades of gray.
Craftsmanship Prowess. You are proficient in two artisan's tools of your choice.
Crafty Pincers. You mainly use your pincers as tools but they can pack a nasty punch. They are natural weapons which you can use to make unarmed strikes. If you hit with them, they deal slashing or bludgeoning damage equal to 1d4 + your Strength modifier.
Tough Shell. Your shell is resilient. You have a +1 bonus to your Armor Class.
Artisan's Sight. Your keen eye and attention to details helps you find what you seek. You are proficient in the Investigation skill.
Languages. You can speak, read, and write Ranii and Common, as well as one additionnal language of your choice. Ranii sounds surprisingly close to Deep Speech, but is much mellower, with lots of clicking involved.

Alpheide
[
edit
]
Whereas the raniides value creativity and discovery, the alpheides value fighting prowess and the ability to defend one's home. This is not to say that they are warmongers, but they are indeed prone to take up arms if they feel that the situation calls for it. They tend to be slimmer compared to other raniides, and usually have a thicker left arm, with a smaller pincer. Though not as dexterous as their raniide cousins, alpheides make for better fighters overall, both in mindset and abilities.
Ability Score Increase. Your Strength score increases by 2 and your Constitution score increases by 1.
Aqua Bullet. As an action, you can clap your left pincer to shoot a jet of pressurized water as if you cast the water bolt cantrip. You use your Constitution for attack rolls made with this attack.
Subsea Training. You suffer no disadvantage when wearing armor or attacking while underwater. Furthermore, choose a one handed or versatile martial weapon: you are now proficient in it, and it adds up to any other weapon proficiencies you may have already.
Warrior's Stare. Despite your martial upbringing, you know the best fight is the one that is not fought. You are proficient in the Intimidation skill.

Random Height and Weight
[
edit
]
Base
Height
Height
Modifier*
Base
Weight
Weight
Modifier**
3′ 0″
+1d10
20 lb.
× (1d4) lb.

*Height = base height + height modifier
**Weight = base weight + (height modifier × weight modifier)
Suggested Characteristics
[
edit
]
When creating a raniide character, you can use the following table of traits, ideals, bonds and flaws to help flesh out your character. Use these tables in addition to or in place of your background's characteristics.
| d8 | Personality Trait |
| --- | --- |
| 1 | |
| 2 | |
| 3 | |
| 4 | |
| 5 | |
| 6 | |
| 7 | |
| 8 | |
---
Back to Main Page → 5e Homebrew → Races