Lakning (3.5e Deity)
From D&D Wiki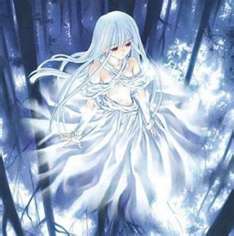 She appears as a young silver-haired, blue-eyed woman wearing gleaming silver robes and carrying a pure, white staff.
She is responsible for all non-runic arcane magic. She is also deeply connected with the miracle of birth.
Clergy and Temples
[
edit
]
She has no clergy, but has numerous followers among the ranks of the magi as well as midwives.
Pantheon
[
edit
]
Greater god in the Shekastkoréan Pantheon
---
Back to Main Page → 3.5e Homebrew → Deities → Greater
Back to Main Page → 3.5e Homebrew → Campaign Settings → Shekastkoré Campaign Setting