Jörmungandr-barn (5e Race)
From D&D Wiki
Jörmungandr-barn
[
edit
]
Among the chaos that served as a prelude to the end of days, many newborns became corrupted in appearance. Spouting fangs, red, scaly skin, and piercing yellow eyes that could frighten even most fearless of mothers and fathers.
Physical Description
[
edit
]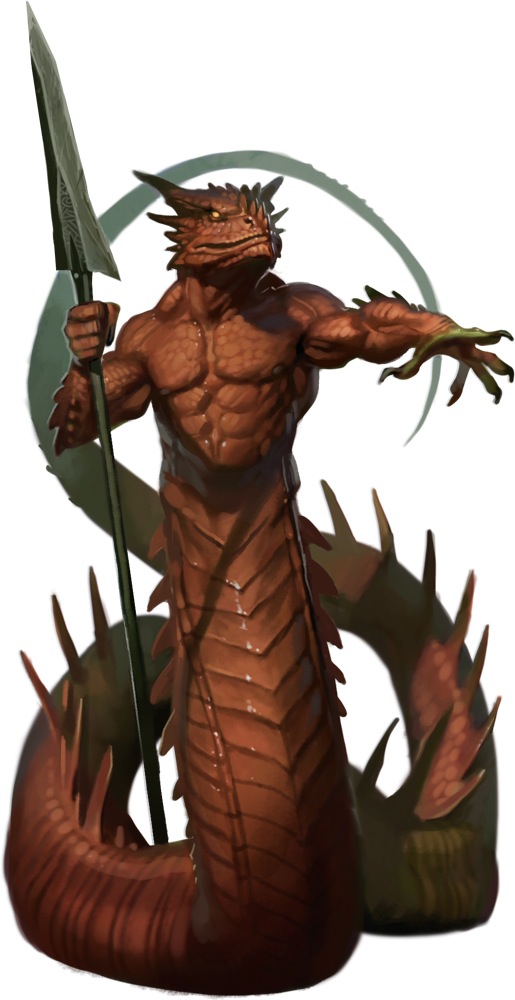 Credit to Paizo
While it can be difficult to say precisely what a standard Jörmungandr-barn looks like (as every race had some members that underwent the change), the vast majority of them can be identified by similar features. Most Jörmungandr-barn have bright yellow eyes and shiny red scales. Less often, Jörmungandr-barn can be other colors, with the next most common ones being orange or yellow, however, stories of strikingly blue and purple Jörmungandr-barn are in circulation. They also tend to be the changed offspring of humans, and so they average 5-6 ft. tall when they "stand up", and are roughly 10-11 ft. long.
History & Society
[
edit
]
Jörmungandr-barn are a unique race for the fact that they arose over night. In the final days before Ragnarök, many people were physically changed by the looming presence of Jörmungandr, although mostly the infants and children weak of mind. Countless thousands of children were abandoned at doorsteps, the ones that weren't devoured their relatives. These children would likely perish when left to their own devices, but the rarer adult Jörmungandr-barn would collect these changed youth and care for them in the towns left abandoned when the chaos began. Of course, their changed state left them in a rather heartless and ravenous nature, so occasionally some adults and children would end up missing and meanwhile bones are being happened upon. This acceptance of murder and limited value of life impacted these small communities of their kind. The leader of the community was essentially leader until someone killed him; it was not a question of if, but when. This incessant murder and devour pattern severely limited their ability to establish long lasting communities and remain in one place.
After 15 years of this nomadic and murderous lifestyle, an ex-adventurer who had undergone the transformation into a Jörmungandr-barn had created a military force out of others he came across, sweeping over abandoned lands and kidnapping every Jörmungandr-barn he could find, returning them to his city. Once there they were trained to be soldiers and
<Race Name> Names
[
edit
]
Male:
Female:
<Race Name> Traits
[
edit
]
Ability Score Increase.
Age.
Alignment.
Size.
Speed. Your base walking speed is <speed> feet.
Darkvision. You can see in dim light within 60 feet of you as if it were bright light, and in darkness as if it were dim light. You can't discern color in darkness, only shades of gray.
Languages.

<Subrace Name>
[
edit
]
Random Height and Weight
[
edit
]
Base
Height
Height
Modifier*
Base
Weight
Weight
Modifier**
′ ″
+
lb.
× () lb.

*Height = base height + height modifier
**Weight = base weight + (height modifier × weight modifier)
Suggested Characteristics
[
edit
]
When creating a <race name> character, you can use the following table) of traits, ideals, bonds and flaws to help flesh out your character. Use these tables in addition to or in place of your background's characteristics.
| d8 | Personality Trait |
| --- | --- |
| 1 | |
| 2 | |
| 3 | |
| 4 | |
| 5 | |
| 6 | |
| 7 | |
| 8 | |
---
Back to Main Page → 5e Homebrew → Races