Hell Spawn (3.5e Template)
From D&D Wiki
Born to serve Malebolgia, Hellspawn are the foot soldiers of Hell's army.
Summary
[
edit
]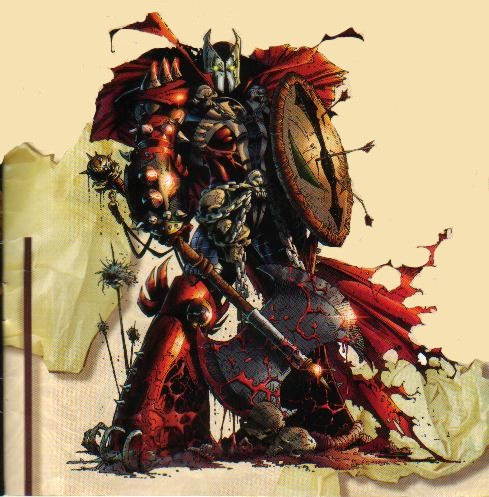 Hellspawn are Humanoids that have been promised their heart's desire if they swear allegiance to Malebolgia, the supreme master of Hell, and serve in his army during Armageddon. Such a creature is not always evil. But only the damned are ever present in Hell, and so there exists no Good Hellspawn. A Hellspawn is often selected from among Humans, Elves or Orcs. Never from anything smaller than a Dwarf, and rarely from any creature much larger than a troll.
Creating a Hellspawn
[
edit
]
This is an acquired template, and is only applied to Humanoids.
Size and Type
[
edit
]
A Hellspawn's size remains that of the base creature, however, whenever it would be advantageous, a Hellspawn can be considered one size category larger.
Hit Dice
[
edit
]
Changes to a d12
Base Creature +10
Armor Class
[
edit
]
+4 Natural Armour
As Base Creature
Full Attack
[
edit
]
As Base Creature
Special Attacks
[
edit
]
Special Qualities
[
edit
]
Stat Increases: +2 STR, +2 DEX, +2 CON
Abilities
[
edit
]
Regenerative Healing Factor: Hellspawn gain 1 Health Per round. At level 5, and every 5 levels gained after, the amount of gained health per round is increased by 1.
Black Energy Transferal: If there are creatures/characters/etc. with an "Evil" alignment within 60 Ft. of a Hellspawn, he/she gains an additional 1 health per round
Creature of Evil control: Hell spawn can control the actions of creatures of darkness and sin, such as wolves, rats, and bats.
Near-Immortality: as long as the head of a Hellspawn is intact, they cannot die. If they are reduced to 0 hit points, they are still knocked unconscious
Flight: Hell Spawn have the capability of flight with their cape, and can fly at twice the creature's base land speed
Phasing: A Hell Spawn is able to phase through walls up to D6 times a day
Shape shifting: A Hell Spawn is able to use their cloak to transform into anything/anyone of their size class once per day for 1D6 hours
Superhuman Reflexes: Hell Spawn get +2 to all Reflex Saves
Superhuman Endurance: Hell Spawn get +2 to all Fortitude Saves
Superhuman Strength: Hell Spawn get +2 to all Strength checks
Same as base creature
Environment
[
edit
]
Usually any deep, dark corner that is quiet, and will allow the Hellspawn to wallow in its own anguish.
Organization
[
edit
]
Individual. While in its time on the Material Plane. A Hellspawn often secludes itself from the rest of normal society. Forming relations only with those who take pity on it, and refuse to let it be.
Challenge Rating
[
edit
]
+2
Treasure
[
edit
]
As Base Creature
Alignment
[
edit
]
Any Non-Good
Advancement
[
edit
]
By Character Class
Level Adjustment
[
edit
]
+7
Playing a Hellspawn
[
edit
]
---
Back to Main Page → 3.5e Homebrew → Creatures → Templates