Hell Spawn (3.5e Template)
From D&D Wiki
Born to serve Malebolgia, Hellspawn are the foot soldiers of Hell's army.
Summary
[
edit
]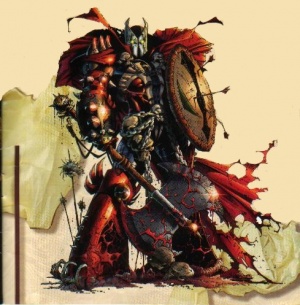 Hellspawn are Humanoids that have been promised their heart's desire if they but swear allegiance to the Lord Malebolgia. And serve in his army during Armageddon. Such a creature is not always evil. But only the damned are ever present in Hell, and so there exists no Good Hellspawn. A Hellspawn is often selected from among Humans, Elves or Orcs. Never from anything smaller than a Dwarf, and rarely from any creature much larger than a troll.
Creating a Hellspawn
[
edit
]
This is an acquired template, and is only applied to Humanoids.
Size and Type
[
edit
]
A Hellspawn's size remains that of the base creature, however, whenever it would be advantageous, a Hellspawn in considered one size category larger.
Hit Dice
[
edit
]
Changes to a d12
Base Creature +10
Armor Class
[
edit
]
+2 Natural Armour
As Base Creature
Full Attack
[
edit
]
As Base Creature
Special Attacks
[
edit
]
Special Qualities
[
edit
]
Abilities
[
edit
]
Environment
[
edit
]
Usually any deep, dark corner that is quiet, and will allow the Hellspawn to wallow in its own anguish.
Organization
[
edit
]
Individual. While in its time on the Material Plane. A Hellspawn often secludes itself from the rest of normal society. Forming relations only with those who take pity on it, and refuse to let it be.
Challenge Rating
[
edit
]
+2
Treasure
[
edit
]
As Base Creature
Alignment
[
edit
]
Any Non-Good
Advancement
[
edit
]
By Character Class
Level Adjustment
[
edit
]
+5
Playing a Hellspawn
[
edit
]
---
Back to Main Page → 3.5e Homebrew → Creatures → Templates