Fusilier (5e Race)
From D&D Wiki
Fusilier
[
edit
]
"
I saw an Aasimer once, but she was strange had fings coming from her lower back, i thought it was odd, but still she told me that god had not forsaken me.
"
—Tavern drunk
"
She came from above, weaving spells and empowering our warriors against the goblin threat, the next thing we knew she threw divine light down upon them killing them with ease while healing our wounded.
"
—Commoner
Physical Description
[
edit
]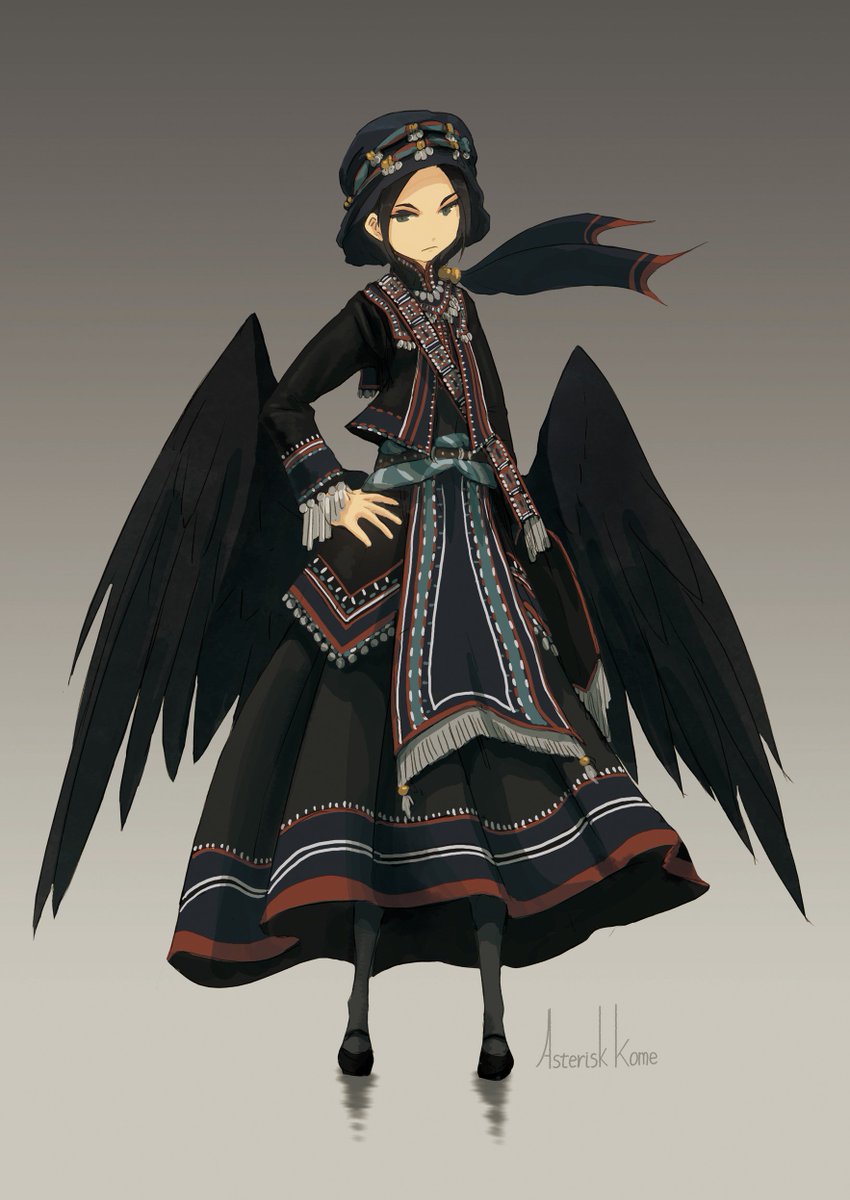 Astrisk Kome, Winged Fusilier
At first glance Fusilier's seem like a human, especially if seen from the front and their wings are folded. While typically they are waved off as a form of Aarakocra or Aasimar, those who do so would be wrong, as Fusilier are different in many ways. The first is the location of the wings in the lower back, along with a large feathered tail that allows them better ariel skills than the other two races. the next is the obvious lack of feathers outside the wings and tail, as well as a lock or talons compared to the Aarakocra. Sadly when using their wings they can resemble the Aasimar, though a closer inspection will prove them to be different.
History
[
edit
]
Believing themselves secluded from the other races of Faerun, the Fusilier have maintained several settlements over the continents. Still, this seclusion is far fetched, as they have fought in numerous wars beside the other races of the realm, and do not believe themselves to be above anyone. They do however have no respect for laws that cause others to suffer and have ended up stirring up trouble on pilgrimages.
Society
[
edit
]
The fusilier have done well for themselves and are more nomadic than other races, preferring to live around mountains and other high areas. While some permanent settlements exist these are mostly filled with elders, children, and parents. At an early age in their adult lives, Fusilier are encouraged to make a long journey either by visiting other settlements or exploring the lands. Some choose to never return to there villages.
Fusilier have become adept in trade goods, mining, clothing, and lumber are traded with other settlements belonging to a variety of races as they do not commonly hold malice for any race.
Fusilier Names
[
edit
]
Male: Peilophi, Phesa, Bolinia, Chamea, Menaera, Corrashi, Raebel, Gineny, Undinoe, Kyroe
Female: Kome, Adraenah, Deserin, Nysaene, Myniane, Zeaneano, Xiryana, Urasha, Desophis, Belylis
Fusilier Traits
[
edit
]
Ability Score Increase. Increase your dexterity Ability score by 2, and your charisma score by 1
Age. Fusiliers are considered mature at the age of 14-16 and reach adulthood then as well, even if not fully grown. The average lifespan is about 90 years.
Alignment. Chaotic Good, Chaotic neutral, Neutral Good, or True Neutral almost never evil or lawful
Size. Fusiliers vary widely in height and build, from barely 4 feet to well over 6 feet tall. Your size is Medium.
Speed. Your base walking speed is 30 feet.
Flight. At level 5, you have a flying speed of 50 feet.
Profiency Bonus. You have proficiency in Acrobatics
Languages. You can speak, read, and write Common and one other language of your choice.

Variant Fusilier
[
edit
]
Ability Score Increase. increase two different ability scores of your choice increase by 1.
Feat. You gain one feat of your choice
Darkvision. You can see in dim light within 60 feet of you as if it were bright light, and in darkness as if it were dim light. You can't discern color in darkness, only shades of gray.

Random Height and Weight
[
edit
]
Base
Height
Height
Modifier*
Base
Weight
Weight
Modifier**
5′ 0″
+1d12
100 lb.
× (1d4) lb.

*Height = base height + height modifier
**Weight = base weight + (height modifier × weight modifier)
Suggested Characteristics
[
edit
]
When creating a <race name> character, you can use the following table of traits, ideals, bonds and flaws to help flesh out your character. Use these tables in addition to or in place of your background's characteristics.
| d8 | Personality Trait |
| --- | --- |
| 1 | |
| 2 | |
| 3 | |
| 4 | |
| 5 | |
| 6 | |
| 7 | |
| 8 | |
| d6 | Flaw |
| --- | --- |
| 1 | You become distracted by light breezes, causing you to spread your wings out. |
| 2 | |
| 3 | |
| 4 | |
| 5 | |
| 6 | |
---
Back to Main Page → 5e Homebrew → Races