Combine MP7 SMG (D20 Modern Equipment)
From D&D Wiki
Combine H2 SMG

[

edit

]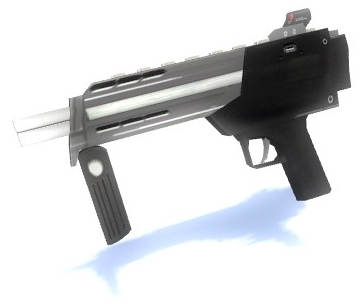 | | |
| --- | --- |
| Size | Medium |
| Critical | 20 |
| Range Increment | 20ft/40ft (grenade launcher) |
| Type | Ballistic |
| | Weapon |
| --- | --- |
| Purchase DC | 18 |
| Restriction | Mil (+3) |
| Damage | 2d8/Varies[1] |
| Rate of Fire | A |
| Magazine | 45 rounds/3 Frag Grenades |
| Weight | 5 1/2lbs |
| Scope | — |
↑

Grenade damage depends on grenade used
Combine H2 SMG
[
edit
]
The Combine H2 SMG is the most commonly used weapon of all the Combine forces. It is used by Civil protection teams for riot control and raids, it is used by Overwatch soldiers as standard backup weaponry, and it is used by the resistance as support weapons in the battlefield. It is highly versatile and comes with a grenade launcher attachment that will turn most combine units into dried up bones in no time. The primary fire lets loose a volley of machine gun rounds that can reduce most combine soldiers to twitching corpses in in 2 rounds of sustained fire. Due to superior Combine engineering, there is no kickback when firing. The grenade launcher fires small grenades in a 40 ft arc. The grenade launcher does not have to be reloaded, but it can only hold three grenades at a time. It takes 3 standard actions to fully reload the grenade launcher after all three grenades have been fired. It takes a standard round action to reload.
---
Back to Main Page → D20 Modern → Equipment
Back to Main Page → D20 Modern → Campaign Settings → Half-Life → Equipment.