Brute Shot (D20 Modern Equipment)
From D&D Wiki
Brute Shot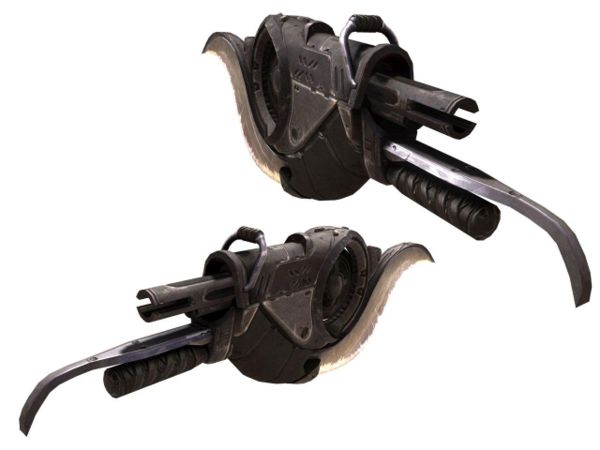 PL 7 Covenant Empire
High Explosive Grenades
A devastating Covenant weapon favored almost exclusively by the Brutes.
Longarm (Personal Firearms Proficiency)
| | | | |
| --- | --- | --- | --- |
| Damage | 4d6 | Magazine | 4 linked |
| Critical | 20/x2 | Size | Large |
| Damage Type | Ballistic | Weight | 25 lbs. |
| Range Increment | 30 ft. | Purchase DC | 25 |
| Rate of Fire | S | Restriction | Mil (+3) |
Description
[
edit
]
The brute shot is a grenade launcher that fires belt-linked grenades (four to a belt). Attacking with a brute shot is identical to throwing an explosive: you make a ranged attack against a specific 5-foot square (instead of targeting a person or creature). The differences between using the Brute Shot and throwing an explosive lie in the range of the weapon (which far exceeds the distance a hand grenade can be thrown) and the fact that the brute shot requires a weapon proficiency to operate without penalty. The belts of linked grenades cannot be attached together, as they fit inside the weapon. The Brute shot has a secondary method of use, in which you make a standard ranged attack versus an opponent. They recieve no reflex save if the attack hits, and the explosive deals an extra 2 dice of damage, but there is no are of effect splash damage. 4 Grenades weigh 4 lbs.
The Brute Shot can alternatively be used as a Close Quarters weapon at a -4 penalty for 3d4 damage with 1.5x strength. Taking the Exotic Weapon Proficiency (Brute Weapons) negates this penalty.
See this page for background information.
---
Back to Main Page → D20 Modern → Equipment
Back to Main Page → D20 Modern → Campaign Settings → Halo → Equipment → Weapons