At approximately 2018-07-20, 14:00:00 (UTC+1), D&D Wiki will go down in order to do a large MediaWiki update.
We will be updating from 1.23.17 to 1.30.0. This may take a number of hours, and edits made shortly prior to downtime could be lost. Please report any subsequent problems on User_talk:Admin.
Brother Razheen (3.5e NPC)
From D&D Wiki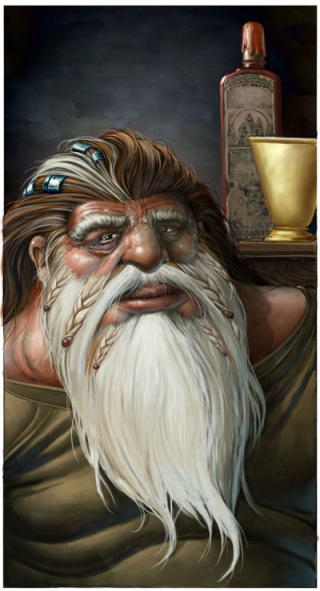 Alezander Droven is the head of the Trugvast Monastary in Mollarok, and as such the head Monk of the Order of Mollarok the Most Holy.
Authority
[
edit
]
Given official authority for Ghikvan politics, Alezander Droven unofficially answers to Brother Razheen.
Game Stats
[
edit
]
Brother Razheen

CR 9

Male dwarf monk 9
LG Medium Humanoid (dwarf)
Init/Senses
-1/Listen +10, Spot +9
Languages
Celestial, Common, Dwarven, Halfling
AC
14, touch 14, flat-footed 14
((10 -1 dexterity +4 wisdom + 1 monk level))
hp
78 (9 HD)
Fort/Ref/Will
+9/+5/+10
Speed
50ft
Melee
+2 Quarterstaff (1d6/1d6, crit x2, 4 lb., two-handed, bludgeoning) or Unarmed Attack (1d10 +1) or
Melee
+2 Quarterstaff (1d6/1d6, crit x2, 4 lb., two-handed, bludgeoning) or Unarmed Attack (1d10 +1)
Base Atk/Grp
+4/+0
Abilities
Str 13, Dex 8, Con 16, Int 15, Wis 19, Cha 12
Feats
Cleave, Combat Reflexes, Improved Disarm, Improved Unarmed Strike, Power Attack, Self-Sufficient, Skill Focus (Knowledge (religion)), Stunning Fist
Skills
Balance +5, Climb +3, Concentration +15, Diplomacy +11, Heal +6, Jump +11, Knowledge (religion) +17, Listen +10, Move Silently +5, Perform (oratory) +4, Sense Motive +13, Spot +9, Survival +6, Tumble +4
Possessions
+2 Quarterstaff, mundane equipment
Patron Deity
Mollarok
---
Back to Main Page → Dungeons and Dragons → NPCs → CR 9
Back to Main Page → Dungeons and Dragons → NPCs → ECL 9
Back to
Main Page
→
3.5e Homebrew
→
Campaign Settings
→
Valgora
→
Ghikva
→
Mollarok