Zuan Codex (3.5e Sourcebook)/Gnoll
From D&D Wiki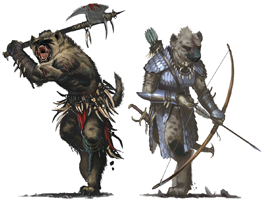 This is not the official gnoll race for D&D, for the official race, click here.
Gnolls are an opportunistic race of humanoids who prefer to scavenge rather than actively hunt, they prefer to wait for others to complete a task, and then sweep in to benefit from the others' labor. Being somewhat cowardly, they avoid entering combat unless they know they have some advantage over their foes. Gnolls are moderately built creatures standing about 5 or 6 feet tall and typically weighing 150 pounds. They have coarse fur and coloration similar to that of either striped or spotted hyenas, depending on the gnoll tribe. Gnolls wear whatever armor they scavenge, so they often have mismatched pieces of various armor. Gnolls also lightly adorn themselves with jewelry and the like. They wear small earrings to differentiate themselves from other gnolls, but they do not wear anything overly large, as such objects could be a liability in a battle. Gnolls reach adulthood around age 14 and generally live into their 60s.
+2 Strength, +2 Constitution, -2 Intelligence, -2 Charisma
A Gnoll's base land speed is 30 feet.
Darkvision: Gnolls can see in the dark up to 60 feet, but only in black and white.
Weapon Familiarity: Gnolls may treat flindbars (mm3) as martial weapons, rather than exotic weapons.
Ambush: Gnolls gain a +2 on attack rolls during a surprise round.
Bite: Gnolls have a natural bite attack, which deals 1d4 + strength in damage.
Skittish: -4 racial penalty on saving throws against fear effects.
+2 racial bonus on saving throws against disease and poison.
Automatic Languages: Common and Gnoll.
Bonus Languages: Draconic, Dwarven, Giant, Goblin, Orc, and Undercommon.
Level Adjustment: +0.
Table: Gnoll Random Starting Ages

| Adulthood | Simple | Moderate | Complex |
| --- | --- | --- | --- |
| 14 years | +1d4 | +1d6 | +2d6 |
Table: Gnoll Aging Effects
Middle Age1
Old2
Venerable3
Maximum Age
30 years
45 years
60 years
+2d10 years
Table: Gnoll Random Height and Weight

| Gender | Base Height | Height Modifier | Base Weight | Weight Modifier |
| --- | --- | --- | --- | --- |
| Male | 4' 10" | +2d12 | 150 lb. | × (2d6) lb. |
| Female | 4' 5" | +2d12 | 110 lb. | × (2d6) lb. |
---
Back to Main Page → 3.5e Homebrew → Races
Back to Main Page → 3.5e Homebrew → Sourcebooks