Talpidans (3.5e Race)
From D&D Wiki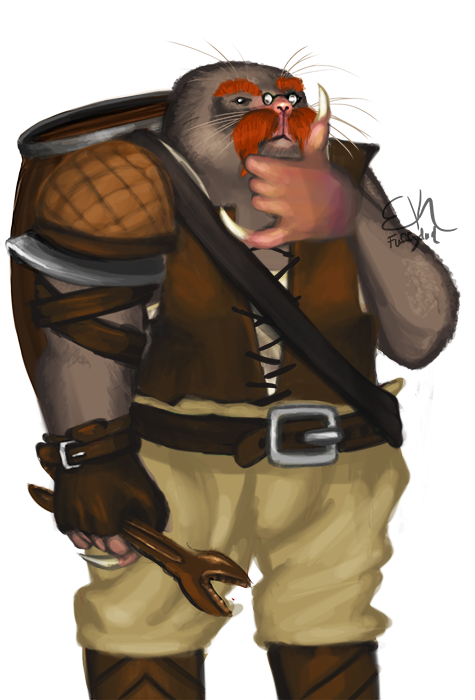 Talpidans
[
edit
]
Talpidans have a coat of fur that can be gray, blond, rusty red, brown, or black. They have a short, triangular snout with many whiskers, a small pink nose, tiny ears, and tiny eyes. A male talpidan can grow a mustache. They have mole-like hands with large claws which allow them to dig as fast as they can run. They prefer function over form in their clothing, due to poor eyesight preventing them from appreciating fine details. Talpidans average 4 feet tall and weight almost as much as adult humans.
Talpidans have a given forename and a clan name.
Example Clan Names: Brakkahill, Labourking, Prokkiton, Gobishield, Sventunnel, Mountainvonklef
Example Male Names: Koffi, Dadunsk, Gennadi, Lukaluk, Dezha, Mossey, Ibichek, Poppun, Hammahem
Example Female Names: Fefka, Miikko, Lanna, Kiirra, Nenetaya, Mumurua, Impopi, Renskenna, Dominnikka
Racial Traits
[
edit
]
+2 Constitution, -2 Charisma.
Talpidan base land speed is 20 feet.
Talpidan base tunneling speed is 20 feet.
Tunnel Dweller: A talpidan can intuit depth, sensing his approximate depth underground as naturally as a human can sense which way is up.
Blindsight(Ex): Talpidans have blindsight out to 60 feet.
Stability: A talpidan gains a +4 bonus on ability checks made to resist being bull rushed or tripped when standing on the ground (but not when climbing, flying, riding, or otherwise not standing firmly on the ground).
Tremorsense(Ex): Talpidans have tremorsense out to 60 feet.
Weapon Proficiency: Talpidans receive the Martial Weapon Proficiency feats for the Light Pick, Heavy Pick, and Combat Shovel as bonus feats.
Automatic Languages: Common, Talpiddish. Bonus Languages: Dwarven, Gnome, Hobbit, Terran, Undercommon, Orc, and Goblin.
Favored Class: Fighter. A multiclass talpidan's Fighter class does not count when determining whether he takes an experience point penalty for multiclassing.
Level Adjustment: +0
Vital Statistics
[
edit
]
Table: Talpidan Random Starting Ages

| Adulthood | Simple | Moderate | Complex |
| --- | --- | --- | --- |
| 15 years | +1d4 | +1d6 | +2d6 |
Table: Talpidan Aging Effects
Middle Age1
Old2
Venerable3
Maximum Age
35 years
53 years
70 years
+2d20 years

At middle age, −1 to Str, Dex, and Con; +1 to Int, Wis, and Cha.
At old age, −2 to Str, Dex, and Con; +1 to Int, Wis, and Cha.
At venerable age, −3 to Str, Dex, and Con; +1 to Int, Wis, and Cha.
Table: Random Height and Weight

| Gender | Base Height | Height Modifier | Base Weight | Weight Modifier |
| --- | --- | --- | --- | --- |
| Male | 3'9" | +2d4 | 130 lb. | × (2d6) lb. |
| Female | 3'4" | +2d4 | 100 lb. | × (2d6) lb. |
---
Back to Main Page → 3.5e Homebrew → Races