Sin'dorei (5e Subrace)
From D&D Wiki
Blood Elf Subrace
[
edit
]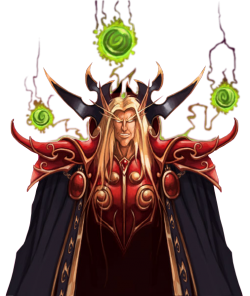 Blood Elf are a people of knowledge and power in the arts of magic and sorcery, they founded themselves by using their power to find areas of connection to the other worlds so that they can hide there and study to their heart desire. They hold no quarrel with any race but are more than willing to harm those who harm them. Blood Elf are similar to High Elf to a point, for they share the same ancestral origin but they have different eyes that which are fully covered by a strong Red, Yellow, Green or Blue light that fill the eye because of their continued usage for their magic and the strong connection they have to it. A well known fact about Blood Elf is that they are easily corrupted by fey or demonic magic. When they absorb these types of magic using their abilities they become addicted and suffer withdrawal if they don't keep feeding themselves with it. In this regard, those Blood Elves who seek to make foul deals with evil creatures of the fey and fel will find themselves outcast or exiled from their own people.
Ability Score Increase. Your Intelligence ability score is increased +2. However your Wisdom is decreased -1.
Blood Sacrifice. You are able use your blood instead of spending your spell slot on using a spell, you must sacrifice Maximum HP point equal to the Number of spell slots desired, maximum 4. You can use this ability once a combat. Each additional spell slot reduces maximum hit points by 15%, rounded up, up to a maximum of 4 additional spell slots for a 60% reduction in maximum hit points. These spell slots must be used before hit points may be restored. Spells past level five takes away twice as much, for example 9th level spell would reduce your hit points by 18.

---
Back to Main Page → 5e Homebrew → Character Options → Subraces