Shinra Soldier Class Armor (3.5e Equipment)
From D&D Wiki
Shinra Soldier Class Armor
[
edit
]
Soldier Armor is unique armor used by Shinra Soldiers, an elite organization of arcane infused soldiers. Shinra Soldier Armor is a badge of membership, and as such, only those inducted into the organization can wear it. Soldier Armor cannot be enhanced by using differing materials but can be enhanced magically.
Soldier Armor is made from a weave of unique monster fibers, waterproofed leather, and forged steel. It is surprising heavy and offers excellent protection against any attack. It also comes in many fashionable colors and styles.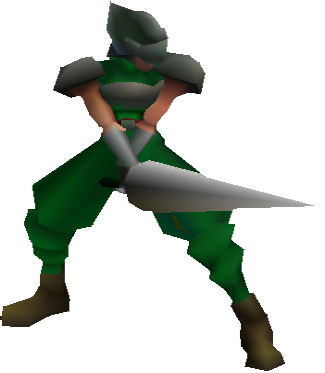 Table: Shinra Soldier Class Armor

Armor Type
Cost
Armor Bonus
Maximum
Dex Bonus
Armor Check
Penalty
Arcane Spell
Failure Chance
Speed (30 ft.)
Weight
Heavy
800 gp
+7
+2
−3
n/a
20 ft.
40 lb.
---
Back to Main Page → 3.5e Homebrew → Equipment → Mundane Armor