Master of Fell Secrets (3.5e Prestige Class)
From D&D Wiki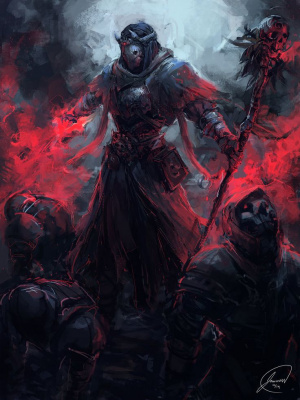 Master of Fell Secrets
[
edit
]
"
Well thats a new trick...
"
—Gorin, Dwarf Scholar, Last Words
Shadows leap from corner to corner, walls of flames erupt from nowhere, a disembodied eye stalks the shelves of an inn; these are the calling cards of a Master of Fell Secrets. These particular Warlocks search to expand their fiendish power through the increasing use of their invocations. While not forgoing the use of their eldritch blast, they do use a variety of other trickery and expanded powers to continue their quests and plots.
Becoming a Master of Fell Secrets
[
edit
]
Master of Fell Secrets are Warlocks who rely less on their eldritch blast, and more on the utility provided by their invocations. Be it by summoning elementals, taking control of the mind of an enemy, or covering the battlefield in a noxious gas, Masters of Fell Secrets always try to avoid engaging in combat directly.
Entry Requirements

| | |
| --- | --- |
| Alignment: | Any non-good. |
| Skills: | Knowledge (The Planes) 8 Ranks, Spellcraft 8 ranks. |
| Invocations: | Any three that are not Blast Shape or Eldritch Essence invocations. |