Malleas (3.5e Race)
From D&D Wiki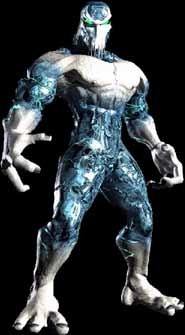 Malleasan
[
edit
]
Born the mistake of magic, divinity, or engineering, the Malleas are a race of humanoid elementals. [1] are even more gifted than the normal Malleas.
Personality
[
edit
]
Malleas function as most humanoids do, they seek creature comforts, and what works for their own survival. Though they are strong, and intelligent, most Malleas tend to seem somewhat ignorant to their own needs, so they tend to live the life of wanderers, not knowing any better.
Physical Description
[
edit
]
Malleas as a whole tend towards the fair average of 5'6" to 6'1", and rarely are they more hefty than bulky due to their special nature. Malleas are crystalline-skinned in nature, and often appear to be humanoids made out of glass, though the gifted Malleasan's body emanates the elemental energy they are gifted with like a skin-color, wheras their eyes are just deep pools of energy, whether it be blue, green, red, purple, black, or white. Malleasan, being a strange race, create their own gender identities, and as such function as a race of hermaphrodites.
Relations
[
edit
]
Malleasan are freshly created, and as such, are a thing of wonder and mistrust. While they usually are not treated in hostile manner, some are misunderstood, or hunted for differing reasons.
Alignment
[
edit
]
A Malleas comfortably finds itself amidst any alignment, though few tend towards Lawful as they do not quite yet understand what it is to pass law over another. Most are Chaotic Neutral.
Malleas prefer climates directly associated with their birthed elemental nature, but can grow comfortable in most any area. They are a hardy, and adaptive race.
Religion
[
edit
]
Malleas have no organized religion, but find themselves swayed gently into the divine, and unholy pantheons, though it's more in regard to a personal relationship for the Malleasan than others would perceive.
Language
[
edit
]
Malleasan speak Common, and either Aquan, Ignan, Auran, or Terran depending upon their elemental affinity. Bonus languages include: Sylvan, Aquan, Ignan, Auran, Terran, Celestial, and Abyssal.
Malleasan have an interesting naming system, Malleasan combine both the love of gnomes for names, and a special naming rite to create some of the most diverse names most beings share. The Rite of Naming ensues when a Malleasan is born, or created, and ends when they finally die, or expire. A Malleasan who dies by a name is considered to have been blessed for their journey to the plane of the element they embody. As such, Malleasan have a variety of names gifted to them by friends, creators, or even themselves, and as such, they can mimic most any race's naming style.
Racial Traits
[
edit
]
+2 to Strength, -2 to Wisdom, -2 to Charisma: Malleasan, while being a race of strength and intelligence, are naive to a fault due to their fresh view on the world they inhabit.
Humanoid (Elemental): Malleasan are creatures of the elements, and as such they gain the Elemental sub-type. Malleasan benefit from the Elemental's immunity to Charm, Sleep, and Poison effects. However, Malleasan still suffer from spells that effect Humanoids, as well as Banish and spells that effect elementals (Though to a lesser degree.)
Medium: Malleasan do not gain any bonuses or penalties associated with size.
Malleas base land speed is 30 feet: Water Elemental Malleas gain Swim speed 30 feet, Air Elemental Malleas gain (Average) Fly Speed 30 feet, Earth Elemental Malleas gain Burrow speed 30 feet, Electricity Elemental Malleas boost their Land speed to 40 feet, Fire and Cold Elemental Malleas are not effected by Difficult Terrain.
Resist Banishment: Spells that banish, or control Elementals or Outsiders that effect the Malleasan due to it's sub-type are reduced to Stun effects.
Elemental Power (Ex): Malleas gain special abilities due to their unique nature, listed below. When creating a Malleas, pick Fire, Cold, Electricity, Earth, Water, or Air as their primary elemental focus.
Elemental Attack: Malleas deal 1d8+Str Modifier damage with their Unarmed Attacks, this reflects their ability to attack with their body as if it were a living weapon, they may choose to deal Lethal, Subdual, or Elemental damage with their Unarmed Strikes, but must announce it upon the attack. This attack still leaves them considered Unarmed, benefitting from Monk class skills.
Elemental Touch: Malleas may make a Touch, or Ranged Touch (At 30 feet), on an enemy for 1d10+Str modifier damage, this increases by another d10 at 4th, 8th, 12th, 16th, 20th, 24th, and 28th levels. Malleas may use this once per day at 1st level, and it's use increases by one at 5th, 10th, 15th, 20th, 25th, and 30th levels.
Elemental Absorption: Malleas recover HP instead of taking damage from elemental damage that corresponds with their own elemental affinity, but they also take 2x the damage from the element that their own elemental affinity is weak against. (Example: Fire and Ice/Water, Electricity and Earth)
Vital Statistics
[
edit
]
Table: Malleasan Random Starting Ages

| Adulthood | Simple | Moderate | Complex |
| --- | --- | --- | --- |
| 10 years | +1d6 | +1d8 | +1d12 |
Table: Malleasan Aging Effects
Middle Age1
Old2
Venerable3
Maximum Age
30 years
50 years
70 years
—

Malleasan do not suffer from the penalties and do not gain the bonuses that come with age. They are, essentially, immortal naturally.
Table: Malleasan Random Height and Weight

| Gender | Base Height | Height Modifier | Base Weight | Weight Modifier |
| --- | --- | --- | --- | --- |
| Male | 5' 6" | +2d6 | 160 lb. | +2d20 lb. |
| Female | 5' 6" | +1d12 | 160 lb. | +2d12 lb. |
---
Back to Main Page → 3.5e Homebrew → Races