Lampir (3.5e Race)
From D&D Wiki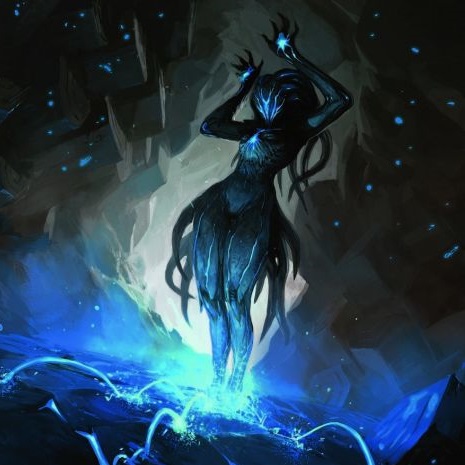 Lampir (WIP)
[
edit
]
Personality
[
edit
]
The Lampir are most commonly described as eccentric by those around them. Their race is physiologically unique due to a decentralized and bipartite nervous system. This grants them the ability to fully consider two entirely separate trains of thought at the same time, but makes their thought processes supremely difficult to track for non-Lampir—and leads to leaps in logic and subject that can seem strange even to other Lampir. It is typical for a conversation with a Lampir to pass over some complicated thought or problem only for it to, with little or no preamble, later return in more detail because the Lampir has spent only half of its attention continuing the conversation—the other half has been carefully considering that conundrum.
This nature also psychologically inclines them to extremes, with a tendency to take near-fanatical positions on every issue and zealously defend that view almost as if it were law. This is because the two sides of their mind, while not separate entities, do tend to differ slightly from one another: one side tends more towards "left-brain" thinking—analytical, methodical, and logical—and the other towards "right-brain" thinking—creative, intuitive, and poetic. This inclines a Lampir to play their own devil's advocate when formulating an opinion of a polarized issue, arguing back and forth until they settle upon an answer they can deem wholly satisfactory. By this point, they have typically become so set in their reasoning that they cannot see how any other intelligent, rational being could come to a different conclusion.
Physical Description
[
edit
]
Lampir are subterranean humanoids that are often compared to fireflies. They typically stand between four and four-and-a-half feet in height, with slight and athletic builds. Their bodies are covered by a tough but flexible carapace, with many separate but overlapping and interlocked segments, an eerie glow emanating from every seam. Occasionally, the carapace will have a larger open area where the pale flesh beneath—and the source of the Lampir's characteristic glow— is visible. These openings tend to be in high-flexibility areas such as the palm of the hand, the pit of the arm, or the back of the knee, but their exact size and location varies from individual to individual. This carapace is most often a midnight blue or deep gray shade, nearly black, but Lampir are also found in deep maroons, bronzes, and orchids—holdovers from the caste system that once dominated their culture.
A cluster of tendrils emerging from the back of their armored heads resembles the hair of most other humanoids, and most Lampir bear similar clusters elsewhere on their bodies; tendrils around the shoulders, upper-back, and hips are the most common, but much smaller groupings around joints are also widespread. Lampir have no discernible facial features such as eyes, noses, or mouths; instead, their faces are a patterned web of the glowing seams that mark their bodies. It is not entirely clear how Lampir perceive the world, lacking any notable visual organs; some ascribe it to an innate magical sense, but it is not affected by anti-magic. The more commonly accepted theory is that Lampir have some other light-sensitive organ which is not readily apparent beneath their odd exterior.
A Lampir's flesh is bio-luminescent, providing a not-insignificant amount of light through the darker colors of their hardened skin. Their flesh matches this light in color, although it will be a near-white shade. The distribution of these colors does, to some degree, respect the colors of carapace. This is due to the segregation of castes that the Lampir once practiced. Maroon, bronze, and orchid Lampir are minorities in their society but the colors are not totally recessive and still appear from time to time. Maroon Lampir most commonly have a yellow-orange glow, but a deeper orange or dark fuchsia are not particularly rare. Bronze Lampir, on the other hand, almost always glow a brilliant yellow-green, rarely edging into a washed-out green the color of sickened leaves. Orchid Lampir often glow a more solid green, but it isn't as clear a majority—you're almost as likely to find a purple individual who glows yellow-green, yellow-orange, or even a near perfect white. Blue Lampir were the lowest and largest caste, and still make up a large portion of the population: they are evenly split between a light yellow-orange and an even lighter blue. Grey lampir were unheard of before the caste system was abolished, being the result of interbreeding between the once pure lines; because of this, they also make up a large portion of the modern population and are totally unpredictable in color since they can bear any of the colors found amongst their kin.
Lampir are an egg-laying race, although unlike many oviparous species the mother will usually lay only a single egg. Clutches containing multiple eggs are analogous to twins or triplets in mammalian races, and the individuals resulting from such births are treated in much the same way by those around them. Lampir families tend to be of moderate size; single children are quite rare, but families with more than four children are equally rare.
Metaphysically speaking, the soul of a Lampir is not like those of other races. Other mortal souls quickly move on from Revales to the afterlife, as if instantaneously incinerated; for unknown reasons the soul of a Lampir burns slowly, unable to move on until the painstaking process is completed. Without the guidance of a mind or the restraint of a body, the deceased soul becomes a volatile and destructive entity. The Lampir call these fiery remnants Cinders, and they resemble nothing more than a cloud of roiling fire in a roughly Lampran shape.
Relations
[
edit
]
Despite their inclination to extremes, the Lampir tend to get along well with other intelligent races; their long history as slaves to a caste system taught the Lampir the importance of tolerance, moderation, and open-mindedness. Only the most unwaveringly hostile of groups could hold an unfriendly relationship with the Lampir.
Lampir settlements are invariably hospitable, although some are much more open to visitors than others. Within their own race, it is nearly unheard of for any conflict to escalate beyond the exchanging of mildly aggressive words;this is in part attributable to an philosophical wish to keep to peace, and in part to a practical desire to stall the decline of their race due to declining birth rates.
Alignment
[
edit
]
Lampir are generally kind-hearted and rational beings that cling to very strongly-held opinions and views. This means that Lampir are rarely chaotic or evil, but outliers do exist.
In general, the Lampir inhabit subterranean cities built into the vast cavern networks that dot the world, particularly those found beneath and within the mountains of Reveles. These settlements are sparsely lit—when they have any lights at all—and the Lampir usually rely upon their natural light to navigate the intricate structures, bridges, and roads that crisscross their homes. Even the smallest towns tends to be of considerable size, as the Lampir tend to be a highly urban and developed people.
The de facto capitol of the Lampir—Riven, so named for the Riven Forge, a culturally imperative artifact it houses—sits beneath the largest volcano on Reveles, which in turn sits beneath one of the world's greatest oceans. The vast city sprawls throughout a much larger cavern complex than any other, and is accessed primarily via underground routes connecting it to a number of "port" settlements spread across the nearby continents.
Religion
[
edit
]
Language
[
edit
]
Lampir start with the common language, Revali, and their own language, Rova. They can learn any non-secret language.
Racial Traits
[
edit
]
+2 Dexterity, +2 Intelligence, −2 Wisdom, −2 Charisma: Lampir are slight, agile beings with the ability to consider two thoughts at once, but they struggle to understand the thought processes and societies of other races.
Monstrous Humanoids: Lampir are essentially humanoid in shape, but are seemingly faceless insectoids whose flesh glows eerily. Their strange mentality strengthens their outwardly eldritch nature.
Medium: As medium creatures, Lampir have no special bonuses or penalties due to their size.
Lampir base land speed is 30 feet.
Bio-Luminescent: A Lampir emits a significant amount of light which cannot be suppressed by anything short of extremely poor health. This light clearly illuminates a 10-foot radius around them, and provides dim illumination out to a 20-foot radius.
Low-Light Vision: A Lampir can see twice as far as a human in starlight, moonlight, torchlight, and similar conditions of poor illumination. They retain the ability to distinguish color and detail under these conditions.
Soul of Cinder: The spirit of Lampir is more akin to a fiery elemental than a mortal soul. This wild Cinder is set loose when a Lampir is slain, and a Lampir cannot be resurrected without its Cinder.
Vital Statistics
[
edit
]
Table: Random Starting Ages

| Adulthood | Simple | Moderate | Complex |
| --- | --- | --- | --- |
| 18 years | +1d2 | +1d6 | +1d10 |
Table: Lampir Aging Effects
Middle Age1
Old2
Venerable3
Maximum Age
60 years
85 years
110 years
+3d12 years

At middle age, −1 to Str, Dex, and Con; +1 to Int, Wis, and Cha.
At old age, −2 to Str, Dex, and Con; +1 to Int, Wis, and Cha.
At venerable age, −3 to Str, Dex, and Con; +1 to Int, Wis, and Cha.
Table: Lampir Random Height and Weight

| Gender | Base Height | Height Modifier | Base Weight | Weight Modifier |
| --- | --- | --- | --- | --- |
| Male | 3' 10" | +3d4 | 80 lb. | × (1d4) lb. |
| Female | 3' 10" | +2d4 | 65 lb. | × (1d4) lb. |
---
Revales Navigation
Revales Campaign Settingv
Player's Handbook
Classes, Languages, Literature, Magic, Races, Religion
Revalian Atlas
Calendar, Cosmology, Factions, Geography, History
Dungeon Master's Guide
About, Bestiary, Consumables, Legendary Items, NPCs, Sample Places, Variant Rules

"
We call this land the Haven, but what does it really keep us safe from? We are our own worst enemies, bringing ruin and damnation upon our heads all in the name of curiosity and innovation.
"
—Alessandra Magebane

Back to Main Page → 3.5e Homebrew → Races
Back to Main Page → 3.5e Homebrew → Campaign Settings → Revales