Dwarves, Red Bellows (3.5e Race)
From D&D Wiki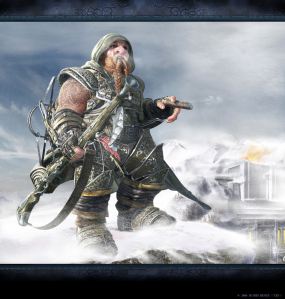 Red Bellows Dwarves
[
edit
]
The Red Bellows dwarves have been under the rule of the humans for 1200 years. The Alchemist uses the dwarves as the core of his army. The one advantage the Red Bellows dwarves get is access to technology such as black powder weapons.
Personality
[
edit
]
Like most dwarves, the Red Bellows dwarf is typically gruff and stoic, but extremely loyal to those who have earned his trust.
Physical Description
[
edit
]
A Red Bellows dwarf stands just under 5' tall. They seem to have a permanent scowl on their face. Their hair color ranges from red to black, and their eyes are usually brown.
Relations
[
edit
]
The Red Bellows dwarves do not get along with humans due to being enslaved by them, and they tolerate the gnomes. They are respectful of the other races, but will not readily trust them.
Alignment
[
edit
]
Most tend to lean Neutral.
They live in the western mountains of the Red Bellows, but a few can be found in all areas of Shekastkoré. There is one such outpost in the south-eastern portion of Batalagh named Greypeak.
Religion
[
edit
]
They follow the Shekastkoréan Pantheon, typically favoring the gods Jord.
Language
[
edit
]
All speak Common, Gnome, and Dwarven. Most others speak at least one of the following fluently: Giant, Goblin, and Orc.
Their naming convention follows the naming style found in the Player's Handbook.
Racial Traits
[
edit
]
Vital Statistics
[
edit
]
Table: Red Bellows Dwarf Random Starting Ages

| Adulthood | Simple | Moderate | Complex |
| --- | --- | --- | --- |
| 40 years | +3d6 | +5d6 | +7d6 |
Table: Red Bellows Dwarf Aging Effects
Middle Age1
Old2
Venerable3
Maximum Age
125 years
188 years
250 years
+2d6 years
Table: Red Bellows Dwarf Random Height and Weight

| Gender | Base Height | Height Modifier | Base Weight | Weight Modifier |
| --- | --- | --- | --- | --- |
| Male | 4' 2" | +2d4 | 150 lb. | × (2d6) lb. |
| Female | 4' 0" | +2d4 | 120 lb. | × (2d6) lb. |
---
Back to Main Page → 3.5e Homebrew → Races
Back to Main Page → 3.5e Homebrew → Campaign Settings → Shekastkoré Campaign Setting