Deathclaws (Fallout Supplement)
From D&D Wiki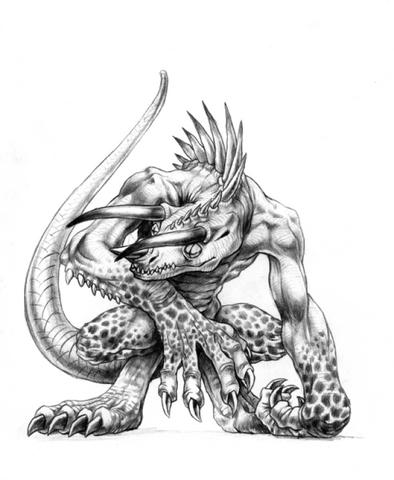 Deathclaws
[
edit
]
Deathclaws are a large, agile and strong species of mutant Jackson's Chameleon created through genetic engineering, with the addition of DNA of various other species. However, due to mutation, they have lost their color-changing ability.
Personality
[
edit
]
Deathclaws are very aggressive, territorial, and carnivorous. They typically live in small packs of around eight to twenty members led by an alpha male, who is the only one allowed to mate with the females.
Physical Description
[
edit
]
Deathclaws have a hunchbacked, humanoid build, stand nine to ten feet tall in adulthood, and have a thick, resilient, and muscular hide ranging from brownish-green to light yellow. Their heads are abnormally large and have horns growing out of them. Their most noticeable feature, though, are twelve-inch-long, razor-sharp claws that can kill almost any other creature in only a few swipes; hence their name.
Relations
[
edit
]
Deathclaws are some of the most hated, feared, and misunderstood creatures in the wastes – when walking among humans, an appropriate disguise, such as a loose-fitting robe with a cowl to cover the head, is an absolute necessity. Most people will simply attack a Deathclaw on sight, or attempt to run away as fast as possible.
Deathclaws can be found roaming the wastes and in tribes, but also live in ruins and caverns.
Religion
[
edit
]
Intelligent Deathclaws can worship anything/anyone they wish.
Language
[
edit
]
Although they do not have vocal cords, they can growl and shout, and seem to be able to mimic human speech much the same as a parrot does. However, normal Deathclaws aren't intelligent enough to be capable of real speech.
Deathclaws rarely have names. Example names are: Gruther, Kerith, Goris, Xarn.
Racial Traits
[
edit
]
+2 Strength, +4 Dexterity, +2 Constitution, -2 Intelligence, -2 Wisdom, -4 Charisma: Deathclaws are genetically engineered killing machines. Their strength, dexterity, and constitution all increased. But being designed as soldiers, they suffer a loss in intelligence and wisdom. Their frightening nature also makes them less charismatic.
Humanoid (Reptilian): Deathclaws are a race of reptilian humanoids.
Large: -1 size penalty to Defense and attacks. +4 size bonus to special attacks. -4 size penalty to Hide skill checks. ×2 carrying capacity.
Deathclaw base land speed is 40 ft.
Death Claws (Ex): Type: Slashing, Damage: 2d10, Critical: 20/x3. +4 species bonus to attack rolls with claws.
Engineered Killing Machine(Ex): +4 species natural armor bonus to Defense. +4 species bonus to Listen skill checks. -2 penalty to Spot and Search checks. Deathclaws have the Scent special ability.
Monstrous Body (Ex): Deathclaws cannot use weapons or armor. Deathclaws apply their Strength modifier to Intimidate skill checks rather than Charisma.
Blood Rage (Ex): 3 times a day, a Deathclaw temporarily gains DR 2/energy and a +2 species bonus to Strength and Constitution. While in this state, the Deathclaw cannot use any skills besides Jump, Listen, Spot or Swim, or any abilities that require patience or concentration. This state lasts for a number of rounds equal to the Deathclaw's (newly improved) Constitution modifier (minimum 1). A Deathclaw may not prematurely end the blood rage.
Native Language: Deathclaw. With training, the Deathclaw may speak a Human language, but it requires the use of 2 skill points (or two selections from your Intelligence bonus) to learn.
Vital Statistics
[
edit
]
Table: Deathclaw Random Starting Ages

| Adulthood | Simple | Moderate | Complex |
| --- | --- | --- | --- |
| 1 year | +1d2 | +1d4 | +1d6 |
Table: Deathclaw Aging Effects
Middle Age1
Old2
Venerable3
Maximum Age
8 years
11 years
13 years
15 years

At middle age, −1 to Str, Dex, and Con; +1 to Int, Wis, and Cha.
At old age, −2 to Str, Dex, and Con; +1 to Int, Wis, and Cha.
At venerable age, −3 to Str, Dex, and Con; +1 to Int, Wis, and Cha.
Table: Deathclaw Random Height and Weight

| Gender | Base Height | Height Modifier | Base Weight | Weight Modifier |
| --- | --- | --- | --- | --- |
| Male | 8'2" | +2d6 | 400 lb. | × 5 lb. |
| Female | 8'0" | +2d6 | 380 lb. | × 5 lb. |
---
Back to Main Page → D20 Modern → Races
Back to Main Page → D20 Modern → Campaign Settings → Fallout → Races