Cazador (Fallout Supplement)
From D&D Wiki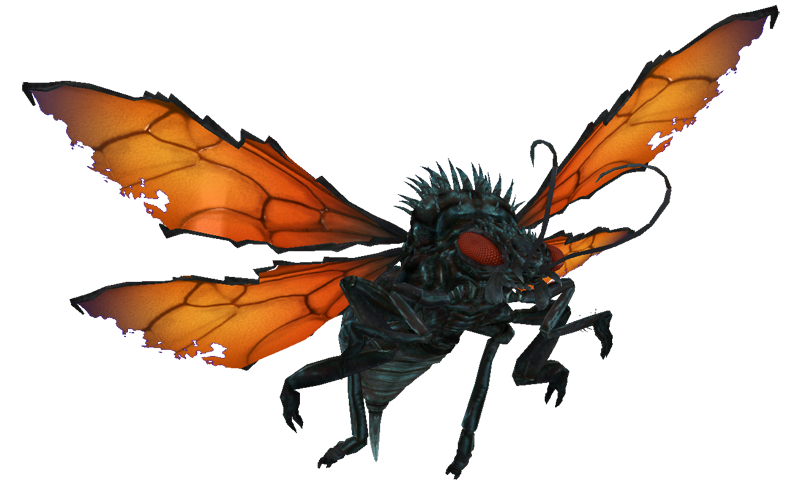 | | Cazador |
| --- | --- |
| Size and Type: | Medium Vermin |
| Hit Dice: | 7d8+35 (63 hp) |
| Mas: | +20 |
| Initiative: | +12 |
| Speed: | fly 40 ft. perfect |
| Defense: | 19 (+1 Natural, +8 Dex), touch 18, flat-footed 11 |
| Base Attack/Grapple: | +6/+1/+9 |
| Attack: | +15 melee (1d6+4, Stinger plus poison) |
| Full Attack: | +15/+10 melee (1d6+4, Stinger plus poison) |
| Space/Reach: | 5 ft by 5 ft/5ft |
| Special Qualities: | Poison, Hive mind, Dark Vision 60 ft |
| Saves: | Fort +16, Ref +14, Will +4 |
| Abilities: | Str 16, Dex 26, Con 20, Int 1, Wis 14, Cha 4 |
| Skills: | Spot +10 |
| Feats: | Improved Initiative, Weapon Focus (Stigner), Weapon Finesse (Stinger) |
| Possessions: | None |
| Organization: | — |
| Challenge Rating: | 8 |
| Allegiances: | None |
| Advancement: | 9-12(large) |
| Level Adjustment: | — |
Upon sight of a prey they spring into action which alert other nearby cazadors then they swarm the victim and relentlessly stab it with their venomous stinger until death occurs.
Poison(Ex): Fort DC 21, Initial 1d6 Con and 1d6 Dex damage, Secondary 1d6 Con and 1d6 Dex damage.
Hive mind(Ex):All Cazadors within 50 miles of each other are in constant communication. If one is aware of a particular danger, they all are. If one in a group is not flat-footed, none of them are. No Cazadors in a group are considered
flanked unless all of them are.
---
Back to Main Page → D20 Modern → Creatures → CR 8
Back to Main Page → D20 Modern → Campaign Settings → Fallout → Creatures