Bat'leth (3.5e Equipment)
From D&D Wiki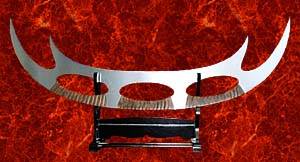 Bat'leth

Exotic Two-Handed Melee

| | |
| --- | --- |
| Critical: | 19-20/x3 |
| Range Increment: | — |
| Type: | Piercing and slashing |
| Hardness: | — |

Size
Cost1
Damage
Weight1
hp
Fine
*
1d2
*
1
Diminutive
*
1d3
*
1
Tiny
*
1d4
*
1
Small
150gp
1d6
6
2
Medium
150gp
2d4
12
5
Large
200gp
2d6
24
10
Huge
*
3d6
*
20
Gargantuan
*
4d6
*
40
Colossal
*
6d6
*
80

The SRD only gives a means to determine costs and weights of weapons for Large and Small versions based on the Medium weapons. Any other supplied values are the author's best determination.
An elegant and unusual weapon, the bow-shaped bat'leth deals damage with its cutting edge in the middle and the large piercing spikes. Experienced wielders can use the weapon with much more precision than unskilled ones, but it is a surprisingly easy, if different, weapon to use.
Characters with proficiency in martial weapons can use the bat'leth without the normal -4 to hit but they incur penalties. The critical range becomes 20/x3 and it no longer deals slashing damage. In addition instead of dealing strength-and-a-half they only deal their strength bonus in addition to the weapon damage.
Characters with proficiency in the bat'leth as an exotic weapon can use Weapon Finesse with it. Also they may forgo adding strength-and-a-half and only deal their strength bonus to provide +1 shield bonus for 1 round. The character need not attack that round to get the bonus but it must be declared.
While using Whirlwind Attack with a bat'leth it deals an additional 1d3 slashing damage to all affected creatures.
---
Back to Main Page → 3.5e Homebrew → Equipment → Mundane Weapons