Thought Nibbler (3.5e Creature)
From D&D Wiki
| | Thought Nibbler |
| --- | --- |
| Size/Type: | Tiny Aberration |
| Hit Dice: | 1/2d8 (2 hp) |
| Initiative: | +5 |
| Speed: | 5 ft. (1 square), swim 40 ft., fly 30 ft. (good) |
| Armor Class: | 22 (+5 Dex, +5 natural, +2 size), touch 17, flat-footed 17 |
| Base Attack/Grapple: | 0/-12 |
| Attack: | tentacle +5 melee (1d4-4 plus memory loss) |
| Full Attack: | 4 tentacles +5 melee (1d4-4 plus memory loss) |
| Space/Reach: | 5 ft./5 ft. |
| Special Attacks: | Improved grab, wring |
| Special Qualities: | — |
| Saves: | Fort 0, Ref +5, Will +2 |
| Abilities: | Str 2, Dex 20, Con 10, Int 10, Wis 11, Cha 10 |
| Skills: | Hide +17, Listen +4, Spot +4 |
| Feats: | Weapon Finesse |
| Environment: | Temperate aquatic |
| Organization: | Team (2-4), group (5-10) |
| Challenge Rating: | 2 |
| Treasure: | None |
| Alignment: | Always neutral |
| Advancement: | — |
| Level Adjustment: | — |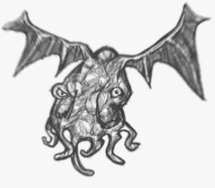 This creature looks like a little squid with bat wings. It has red skin and blue tentacles.
A thought nibbler is a strange creature that feeds on the brains of other living beings. The nature of this rare creatures is probably related to wizardry.
Combat:
[
edit
]
Thought nibblers attack intelligent beings to feed from their brains. They are patient and choose the correct time and place, when their target is alone.
Improved Grab (Ex): To use this ability, a thought nibbler must hit with a tentacle attack. It can then attempt to start a grapple as a free action without provoking an attack of opportunity.
Memory Loss (Su): If a thought nibbler hits with at least one tentacle, its victim must succeed at a Fortitude save (DC 15) or become stunned for 1 round, and lose last 1d4 hours memory, this includes the fact of been attacked by the nibbler. The subject can restore its memory only through a heal spell or by a memory restoration with limited wish, wish, or miracle.
Wring (Ex): If a thought nibbler hits with its 4 tentacles and maintains a hold, it can attempt to drain Intelligence points at a rate of 2d4 per round. A though nibbler leaves when it has drained a total of 20 points of intelligence.
---
Back to 3.5e Homebrew->DnD Creatures->DnD CR 2 Creatures