In a matter of hours D&D Wiki be down for an extended period of time to perform necessary hardware upgrades.
These hardware upgrades should address user's concerns including Talk:Main Page#Web Page Not Found Error and the database access times when saving, moving, and deleting pages. Please stand by.
Magre Bronzesteel (3.5e NPC)
From D&D Wiki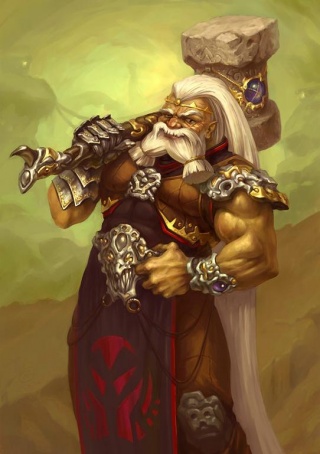 Magre Bronzesteel is the King of the lands of Finlay.
Authority
[
edit
]
Above and below ground. King Magre Bronzesteel leads the people in the Malsvir senate.
Game Stats
[
edit
]
Magre Bronzesteel

CR 4

Male dwarf barbarian 4
CG Medium humanoid
Init/Senses
+2/Listen +7, Spot +0
Languages
Common, Dwarven, Aquan, Orc
AC
17, touch 12, flat-footed 15
(+2 Dex)
hp
51 (4 HD)
Fort/Ref/Will
+6/+3/+2
Speed
30ft
Melee
Urgosh, Dwarven (-2/-2, 1d8/1d6, x3, slashing or piercing, 12 lbs) or
Melee
Waraxe, Dwarven (1d10, x3, slashing, 8 lbs)
Base Atk/Grp
+7/+7
Abilities
Str 18, Dex 15, Con 15, Int 14, Wis 13, Cha 8
Feats
Power Attack, Two Weapon Fighting
Skills
Climb +3, Craft (carpentry) +1, Intimidate +7, Jump +4, Perception +7, Ride +3, Survival +7, Swim +3
Possessions
Dwarven Urgosh, Dwarven Waraxe, Warhammer, Backpack, Breastplate, bedroll, Blanket (winter), flint & steel grappling hook, iron pot, 150ft hempen rope, waterskin, traveler's outfit, ice axe, cramons, 20 days of rations, Finlay royal crown
Patron Deity
Morton Frightful
---
Back to Main Page → Dungeons and Dragons → NPCs → CR 4
Back to Main Page → Dungeons and Dragons → NPCs → ECL 4
Back to Main Page → 3.5e Homebrew → Campaign Settings → Valgora → Valgorian NPCs
Back to
Main Page
→
3.5e Homebrew
→
Campaign Settings
→
Valgora
→
Malsvir
→
Finlay