In a matter of hours D&D Wiki be down for an extended period of time to perform necessary hardware upgrades.
These hardware upgrades should address user's concerns including Talk:Main Page#Web Page Not Found Error and the database access times when saving, moving, and deleting pages. Please stand by.
Bladesinger (3.5e Optimized Character Build)
From D&D Wiki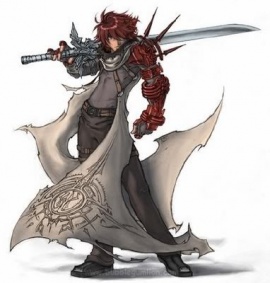 Introduction
[
edit
]
Boost your whole party's damage to impressive heights using your bardsong while being a formidable foe yourself.
References
[
edit
]
Unearthed Arcana
Dragon Magic
Complete Warrior
Dungeon Master's Guide II
Tome of Battle
Magic Item Compendium
Races of the Dragon
Spell Compendium
Dungeonscape
Player's Handbook II
Eberron Campaign Setting
Game Rule Components
[
edit
]
Progression
[
edit
]
Starting Ability Scores (Before Racial Adjustments): (Assuming 32 Point Buy) 16 14 12 15 8 13
Race: Draconic Human (Mostly for the stat bonuses, buy off +1 LA. Need 15 Intelligence and Charisma for Words of Creation)
ECL
Class/HD/LA
Base
Attack Bonus
Saving Throws
Feats
Class
Features
Special
Fort
Ref
Will
1st
Bard 1
+0
+0
+2
+2
Dragontouched, Draconic Heritage (Battle), Power Attack, Dragonfire Inspiration
Bardic Music, Countersong, Inspire Courage +1, Lore Song
2nd
Warblade 1
+1
+2
+2
+2
Battle Clarity, Weapon Aptitude
3rd
Bard 2
+2
+2
+3
+3
Song of the White Raven
4th
Warblade 2
+3
+3
+3
+3
Uncanny Dodge
5th
Warblade 3
+4
+3
+4
+4
Battle Ardor
6th
Bard 3
+5
+4
+4
+4
Song of the Heart
Inspire Competence
7th
Warblade 4
+6
+5
+4
+4
8th
Warblade 5
+7
+5
+4
+4
Iron Heart Aura
Inspire Courage +2
9th
Warblade 6
+8
+6
+5
+5
Words of Creation
Improved Uncanny Dodge
10th
Warblade 7
+9
+6
+5
+5
Battle Cunning
11th
Warblade 8
+10
+7
+5
+5
12th
Warblade 9
+11
+7
+6
+6
Stormguard Warrior, Combat Reflexes
13th
Warblade 10
+12
+8
+6
+6
14th
Warblade 11
+13
+8
+6
+6
Battle Skill, Inspire Courage +3
15th
Warblade 12
+14
+9
+7
+7
Robilar's Gambit
16th
Warblade 13
+15
+9
+7
+7
Improved Initiative
17th
Warblade 14
+16
+10
+7
+7
18th
Warblade 15
+17
+10
+8
+8
Optional
Battle Mastery
19th
Warblade 16
+18
+11
+8
+8
20th
Warblade 17
+19
+11
+8
+8
Diehard
Inspire Courage +4
At level 20: Bard 3 / Warblade 17
Optional Feats
[
edit
]
Defensive Sweep to generate another Attack of Opportunity with Stormguard Warrior, especially if you have a Zone Controller in the party
Improved Buckler Defense for extra AC
Close-Quarters Fighting for excellent defense against grapplers
Items of Note
[
edit
]
Badge of Valor
Vest of Legends
Wand of Inspirational Boost
Highlights
[
edit
]
Must be good (Exalted)
Assumed stats at level 20:

Inspire Courage: 4 (Base) x 2 (Words of Creation) + 1 (Song of the Heart) + 1 (Inspirational Boost) + 1 (Badge of Valor) = +11, Dragonfire Inspiration + Draconic Heritage (Battle) = 11d6 Sonic damage
Strength: 16 (Base) + 2 (Race) + 6 (Item) + 5 (Tome) + 5 (Level) = 36 (+13)
Attack Bonus: 19 (BAB) + 14 (Str) + 5 (Magic) = +38/+33/+28/+23
Damage: 2d6 (Greatsword) + 19 (Str) + 5d6+5 (Magic) + 11d6 (Bardsong) = 18d6+24
Total damage per attack comes out to 87 (on average). Should all attacks hit that's 348 damage. (200.1 when weighted against AC 40)

Shore up the low Will save with Moment of Perfect Mind
That's with a regular full attack. Add extras (such as Time Stands Still, Raging Mongoose, Diamond Nightmare Blade and others) and you can reach far higher damage.
Combat Sequence
[
edit
]
Charge
Full attack and maneuvers
Munchkin-Size Me
[
edit
]
Get another bard or use a wand to cast Creaking Cacophony to double your Sonic damage.
At high levels, Diehard can be used to good effect when combined with the Delay Death spell (Spell Compendium).
Limitations
[
edit
]
Creatures with resistance/immunity to Sonic damage. Fortunately, not many of these exist.
Bardic Music quota is equal to Bard class level.
DM Counters
[
edit
]
Usual melee defences apart from AC (illusions, concealment, distance, etc)
Silence
Variants
[
edit
]
If you're willing to give up on the awesomeness that is Stormguard Warrior when combined with Robilar's Gambit, you can pick up the Two-Weapon Fighting tree for extra attacks. Take Two-Weapon Fighting instead of Power Attack, Improved Two-Weapon Fighting instead of Robilar's Gambit, and Greater Two-Weapon Fighting as the optional feat. If you choose to go this route, a few levels of Bloodclaw Master may be appropriate.
You can switch in Crusader instead of Warblade. If you do so, take Stone Power instead of Power Attack (combines incredibly with Steely Resolve), Endurance instead of Stormguard Warrior, and Steadfast Determination instead of Robilar's Gambit to shore up the low Will save. Finally, as the optional feat pick up Stand Still and combine with Thicket of Blades and a glaive + armor spikes for good Zone Control.
It's possible to switch the three Bard levels and one of Warblade for Paladin and insert the From Smite to Song feat (Champions of Valor) instead of Song of the Heart to achieve full BAB with this build.
Alternatively, one can pick up the From Smite to Song feat (Champions of Valor) in place of Song of the White Raven to switch out the Warblade levels for Paladin, the build becoming Bard 3 / Paladin (probably of Freedom) 17. If you do so, also consider picking up Initiate of Milil (Champions of Valor) to get all the bardic songs which the Bard gains access to.
---
Back to Main Page → 3.5e Homebrew → Optimized Character Builds