Swarm Leader (3.5e Class)
From D&D Wiki
The Swarm Leader
[
edit
]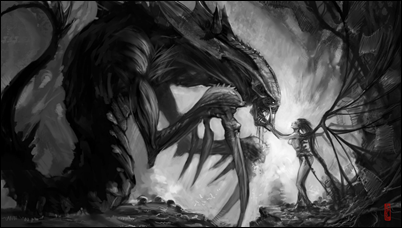 "Our Hive Mind exists only to consume and grow stronger. We will collect all available bio-matter and evolve to consume the galaxy!"
The Swarm leader is to command a brood evolve & adapt to the problems at hand. Leader Change keep evolving & destroy anything in your path but remember a leader has to use everything at hand to as a tool for your brood to survive in the hostel world. Plan carefully Build your brood. "Oblivion awaits within the void."
The Swarm Leader
Alignment: Any
Races: <-description of relative likelihood of various races to join this class->.
Starting Gold: 3d4x10 gp (75 gold pieces).
The Swarm Leader
[
edit
]
<-Strong points are that he a range attacker that command an army or phew minion depend on the play style of the player as they build for tricky situations. Weak points is weapons you'll only have one attacking ability as you'll need to be protected as you work on the battle field. Effectiveness with party members are that you'll be able to help with with plans you'll be in the back as you can also heal.->.

Starting Age: <-Select "Simple" or "As rogue", "Moderate" or "As fighter", or "Complex" or "As wizard", to let players know which starting age category to use for 1st-level characters->.
Hit Die: d8

Level
Base
Attack Bonus
Saving Throws
Special
Fort
Ref
Will
Biomass
Brood Control
1st
+0
+0
+0
+2
Biomass, Biomass Hardening, Swarm Creation, Brood Control, Brood Hives, Hive Mind
1000
20
2nd
+1
+0
+0
+3
Essence Enchantment
1000
30
3rd
+1
+1
+1
+3
Kinetic Blast
1000
40
4th
+2
+1
+1
+4
Evasion
1000
50
5th
+2
+1
+1
+4
Swarm Evolution
1250
60
6th
+3
+2
+2
+5
Psionic Backlash
1250
70
7th
+3
+2
+2
+5
Mend
1250
80
8th
+4
+2
+2
+6
Infested Lifeforms
1250
90
9th
+4
+3
+3
+6
Improved Evasion, Mental Backlash
1250
100
10th
+5
+3
+3
+7
Psionic Storm
1500
110
11th
+5
+3
+3
+7
Assimilation
1500
120
12th
+6/+1
+4
+4
+8
Brood Hives, Improved
1500
130
13th
+6/+1
+4
+4
+8
Biomass Hardening
1500
140
14th
+7/+2
+4
+4
+9
Infestation Spores
1500
150
15th
+7/+2
+5
+5
+9
Razor Storm
1750
160
16th
+8/+3
+5
+5
+10
Wild Mutation
1750
170
17th
+8/+3
+5
+5
+10
Mending Aura
1750
180
18th
+9/+4
+6
+6
+11
Fury, Ability Efficiency, Brood Hives, Mastery
1750
190
19th
+9/+4
+6
+6
+11
I Am The Swarm
1750
200
20th
+10/+5
+6
+6
+12
Hive Dimension, Apocalypse, Brood Hives, Prodigy, I Am The Swarm
2000
Unlimited

Class Skills (2 + Int modifier per level, ×4 at 1st level)
Balance (Dex),Bluff (Cha),Climb (Str), Concentration (Con),Craft (Int),Diplomacy (Cha)Decipher Script (Int),Knowledge (Nature) (Int), Profession (Wis),Sense Motive (Wis),Spellcraft (Int).Spot (Wis),Survival (Wis),
Class Features
[
edit
]
---
Back to Main Page → 3.5e Homebrew → Classes → Base Classes