Stone Gargoyle (5e Race)
From D&D Wiki
Stone Gargoyle
[
edit
]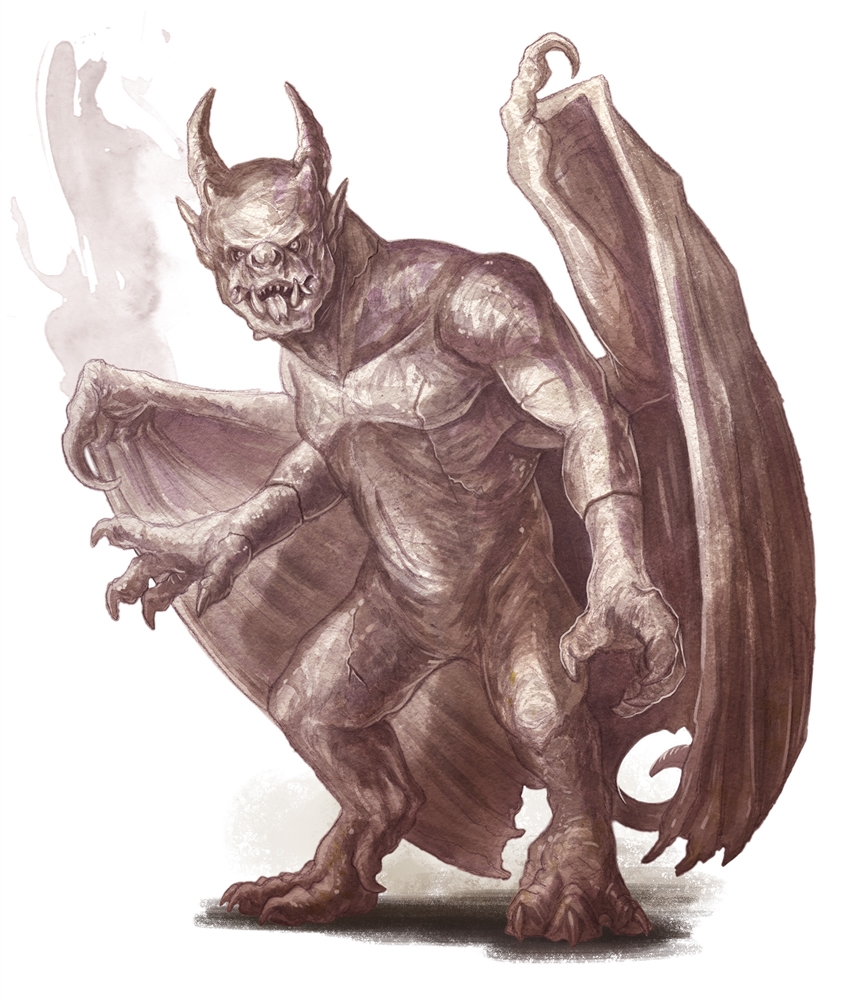 The carved guards and wardens, usually set to a specific location but occasionally designed for journeys and adventuring.
Physical Description
[
edit
]
While most take the shape of man with sharp teeth and claws, as well as dragon-like wings, Gargoyles can look like anything their sculptor wants or needs them to within the limits of their abilities.
Attitudes and Beliefs
[
edit
]
Gargoyles uphold the purpose of their creation, which tends to be guarding a building or area. They adhere to a strict code they cannot break. Breaking their code results in their form being lost and remaining as a statue forever.
History
[
edit
]
Gargoyles came about much the same way as Golems: Spellcasters experimenting with the ability to create life. Gargoyles were a direct response to The Golems, made to protect people against them and other constructs.
Medium Construct
Ability Score Increase. Your Constitution increases by 2 and your Dexterity increases by 1
Age. Gargoyles can live as long as your stone is not destroyed
Alignment. A Gargoyle's alignment is determined by the creator, but are almost always Lawful
Size. Gargoyles vary widely in height and build depending on how you were constructed, but your size is Medium
Speed. Your base walking speed is 30 feet
Tremorsense. You can detect vibrations up to 60 ft through stone
Living Statue. As an action you can remain motionless, becoming indistinguishable from an inanimate statue. While in this state, you have advantage on Stealth checks. While you are locked in this state, your speed is 0 and the only action you can take is to leave this state as a bonus action. Instead of sleeping, you enter into this inactive state for 8 hours each day.
Stone Skin. When you aren't wearing armor, your AC is 12 + your Constitution modifier. A shield's benefits apply as normal while you use your natural armor. You also have resistance against being poisoned as you do not need to eat.
Glide. Although your wings are too heavy to fly with you can glide through the air, making it easier to cross large gaps
Languages. You can speak, read, and write Common and the language of your creator

---
Back to Main Page → 5e Homebrew → Races