Ezeria (5e Campaign Setting)
From D&D Wiki
Summary of the world
[
edit
]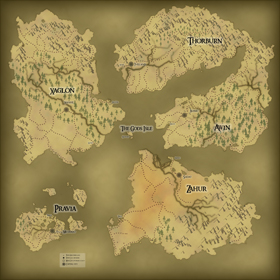 The Land of Ezeria was once unified together with nothing more than rivers separating vast amounts of land with cultures looking similar, it was not till a little over one hundred years ago, the gods started fighting, their fight shook the earth and the lands shifted water rushing in and creating a gap and each pantheon of gods finding a new home on their own section of land. Over time the lands grew more apart not just in distance but culture religion and language, mortals learning to sail between lands to close the gap, some attacked others for what they had, others just traded to build their wealth. as the decades went by people became less reliant on the gods and their presence as a whole is not as felt as it was in the past. Now our game will start on the god's Isle in the heart of Ezeria, the trade capital of the world and the only place a melting pot of culture and religion is still found.
Campaign Setting Information
[
edit
]
Please note this is all still under construction, and I will add more info as I have time.
| | | |
| --- | --- | --- |
| Players Guide | World of Ezeria | Dungeon Master's Guide |
---
Back to Main Page → 5e Homebrew → Campaign Settings