Dragoncraft Armor or Shield (3.5e Equipment)
From D&D Wiki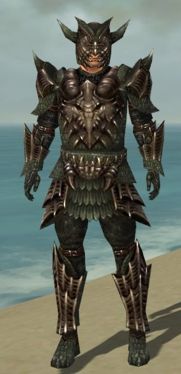 Dragoncraft Armor or Shield
[
edit
]
Armor that has been made from the hide and scales of a dragon is refered to as Dragonhide Armor. It is always of Masterwork quality. Only hide armor, banded mail, half-plate, breastplate or suit of full plate can be made from Dragonhide. However, with the Dragoncrafter (3.5e Feat) the armor or shield grants it's wearer non-magical elemental resistance to the element of the dragon it was made from. This is treated as an extraordinary and is not effected by and anti-magic field.

Because Dragoncraft armor isn't made of metal, druids can wear it without penalty.
Dragoncraft armor costs double what masterwork armor of that type ordinarily costs, but it takes no longer to make than ordinary armor of that type.
Dragoncraft armor has 10 hit point and hardness of 10.
---
---
Back to Main Page → 3.5e Homebrew → Equipment
--Korminor 17:36, 25 March 2012 (MDT)