Crypto Bro (5e Class)
From D&D Wiki
April Fools!

This content is not designed for use in regular games, and may affect overall balance and gameplay. Take caution when using this material.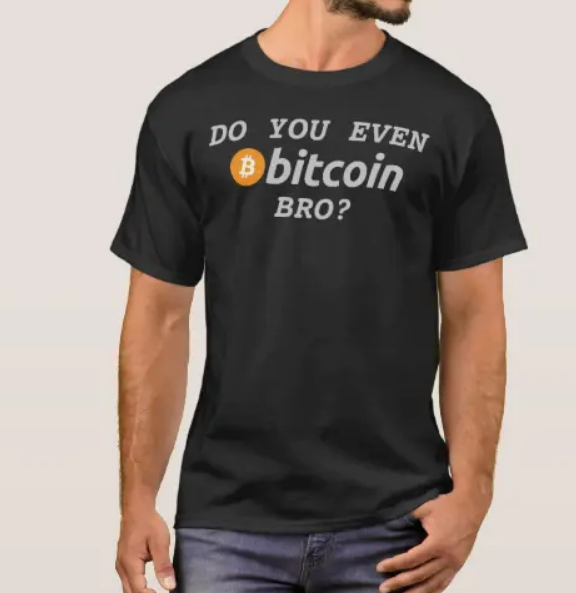 Crypto Bro
[
edit
]
A young man on twitter who is an absolute hype beast for crypto-currencies and makes long term predictions, often backed by memed and self-fulfilling financial charts.
Creating A Crypto Bro
[
edit
]
Quick Build
You can make a <!-class name-> quickly by following these suggestions. First, <!-Ability score-> should be your highest ability score, followed by <!-Ability score->. Second, choose the <!-background name-> background. Third, choose <!-elaborate on equipment choices->
Class Features
As a you gain the following class features.
Hit Points
Hit Dice: 1d6 per level
Hit Points at 1st Level: 6 + Constitution modifier
Hit Points at Higher Levels: 1d6 (or 4) + Constitution modifier per level after 1st
Proficiencies
Armor:
Weapons:
Tools:
Saving Throws:
Skills:
Equipment
You start with the following equipment, in addition to the equipment granted by your background:
(a) Black shirt with a quote about crypto currency of your choice. or (b) Laptop plastered with crypto currency stickers.
Crypto Currency
[
edit
]
At 1st level you were given a choice between 10 million gold and 5 gold/day, you of course chose the 5 gold/day because it's passive income. You utilize crypto currency to buy some internet tools, and to show how smart you are by investing online.
Level 2
[
edit
]
At level 2 you start investing into GoblinCoin gaining 1 gold/day. Once a day you can roll a 1d20 to determine if the stock value goes up or down. For numbers below 10 the stock goes down by 10 -[roll] and for going up [roll] - 10 (Rolling a 10 doesnt change the value)
Level 3
[
edit
]
WORK IN PROGRESS
---
Back to Main Page → 5e Homebrew → Classes