Combine Grenade (D20 Modern Equipment)
From D&D Wiki
Combine Grenade

[

edit

]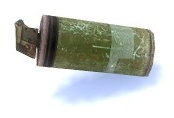 | | |
| --- | --- |
| Size | Small |
| Critical | — |
| Range Increment | 10ft |
| Type | Slashing |
| | Weapon |
| --- | --- |
| Purchase DC | 25 |
| Restriction | Mil (+3) |
| Damage | 3d6 |
| Rate of Fire | — |
| Magazine | — |
| Weight | 2 lbs |
| Burst Radius | 25ft |
| Scope | — |
Combine Grenade
[
edit
]
The Combine Grenade is the main explosive weapon used by the Combine Overwatch on Earth. It is similar in appearance to a smoke grenade, but that's where the similarities end. The Combine Grenade has a maximum blast radius of about 50ft. Anything within 25ft of the blast takes the listed damage, regardless of saving throws. Anything within 50ft, but not within 25ft may take a reflex save, DC 18, in order to take half damage from the blast.
When the pin of a Combine Grenade is pulled, it begins to emit a chirping sound, which can be heard from anywhere within 30ft with no listen check. The Combine Grenade also emits a red light, visible as long as the grenade is within line-of-sight of the player or NPC.
The Combine Grenade, due to it's cylindric shape, can roll down slopes or along solid ground. If a Combine Grenade is thrown, it will roll a maximum of twice the length of the throw and a minimum of 1/2 the length of the throw, decided by the GM. This roll can be avoided with a successful Slight of Hand check, DC 15.
---
Back to Main Page → d20 Modern → Equipment
Back to Main Page → D20 Modern → Campaign Settings → Half-Life → Equipment.