Buffalord (5e Race)
From D&D Wiki
Buffalord (5e Race)
[
edit
]
Incredibly docile dragons, they are believed to be extinct.
Physical Description
[
edit
]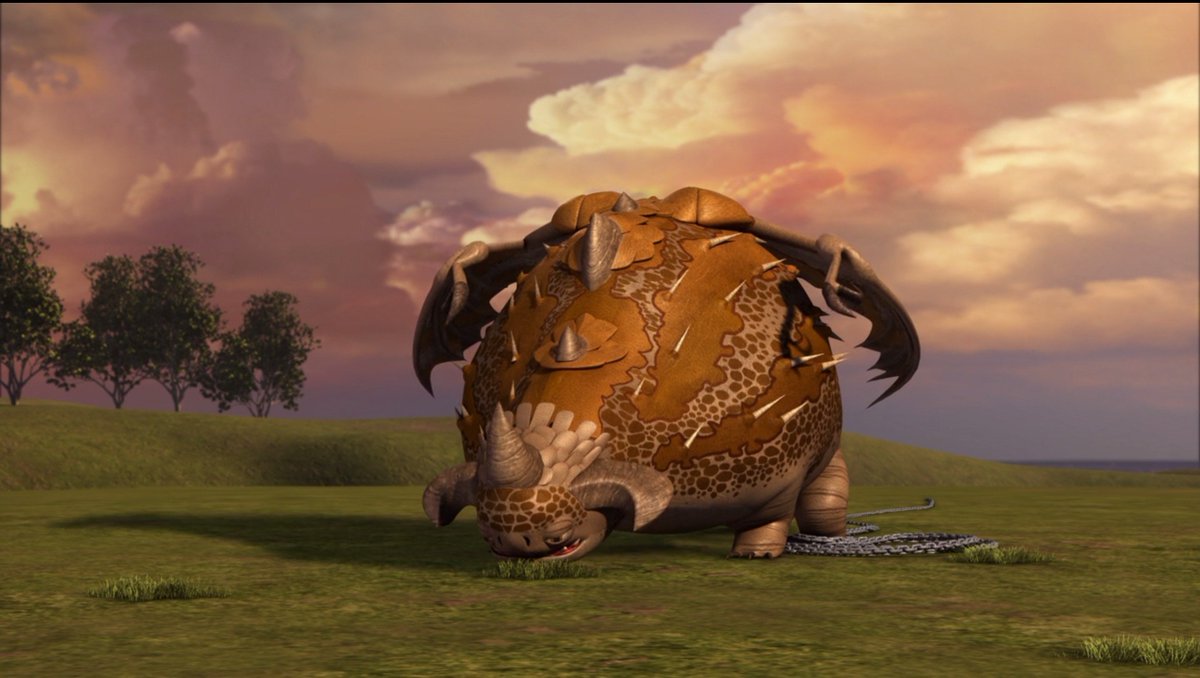 A grazing Buffalord
Buffalords are rotund dragons that have stubby legs wings that connect to special protrusions on the back, horns on their heads, a stubby tail, and many spikes lining its body. It is incredibly docile, those encountering the few that have encountered them describing them as incredibly yak like. They have special saliva that when mixed with the herbs they eat, becomes the cure to the disease The Scourge of Odin.
History
[
edit
]
These docile dragons travelled in large herds looking for herbs. It wasn't until the Scourge of Odin became so wide spread that it was discovered that their saliva was the cure to the disease, leading many to drive them to extinction.
Society
[
edit
]
These dragons once travelled in herds but after a great destruction they were nearly wiped out and very few exist. They prefer to be left alone until breeding or they move to a new area.
Buffalord (5e Race) Names
[
edit
]
These dragons typically name themselves but typically are too busy grazing to think about names.
Buffalord (5e Race) Traits
[
edit
]
Very rotund and docile dragons
Ability Score Increase. Your Charisma score increases by 2 and your Strength score increases by 1.
Age. The average lifespan is unknown.
Alignment. They are typically neutral
Size. Buffalords are large dragon that when inflated become huge
Speed. Your base walking speed is 15 feet. Your base flying is 20 feet
Darkvision. You can see in dim light within 60 feet of you as if it were bright light, and in darkness as if it were dim light. You can't discern color in darkness, only shades of gray.
Combusting Flame (Shot Limit, 6). You fire a hard to control combustible flame (20/60) you roll a 1d20 when in use and depending on the outcome is how far out the flame goes before exploding. On hit, you deal 1d8 fire damage (including explosion) on a failed dex save (8 + Dexterity Modifier + proficiency Modifier) or have as much on a successful one. Once you use all your shots you must complete a short or long rest. A short rest regains have your shot limit whilst a long rest regains all of them.
Inflatable Body. You are able to inflate your body to appear larger and more menacing, your spines stick out in this state. While like this you move slower and have advantage on Intimidation checks and grow one size larger.
Spine Shot. You are able to shoot your spines (20/60) but only whilst inflated. You can only fire 10 spines before a short or long rest. Each spine does 1d6 piercing damage on hit.
No Metal. You cannot use Armor or Weapons if it is not made specially for you.
Head Ram. You are proficient with using your thick skull as a battering ram. On hit, you deal 1d6 bludgeoning damage + your strength modifier.
No Focus, No Problem. You do not require an Arcane Focus to cast spells.
Healing Saliva. You are able to produce a temporary healing potion that lasts for 1d20 minutes after being dripped from your mouth. The saliva heals 1d6 + your will modifier and can cure some diseases (chosen by DM except The Scourge Of Odin, this is set in stone)
Languages. You can speak, read, and write Common and Draconic
Subrace. Titan Wing Buffalord (to be added)

Random Height and Weight
[
edit
]
Base
Height
Height
Modifier*
Base
Weight
Weight
Modifier**
′ ″
+
lb.
× () lb.

*Height = base height + height modifier
**Weight = base weight + (height modifier × weight modifier)
Suggested Characteristics
[
edit
]
When creating a <race name> character, you can use the following table of traits, ideals, bonds and flaws to help flesh out your character. Use these tables in addition to or in place of your background's characteristics.
| d8 | Personality Trait |
| --- | --- |
| 1 | |
| 2 | |
| 3 | |
| 4 | |
| 5 | |
| 6 | |
| 7 | |
| 8 | |
---
Back to Main Page → 5e Homebrew → Races