Blink Blade (3.5e Prestige Class)
From D&D Wiki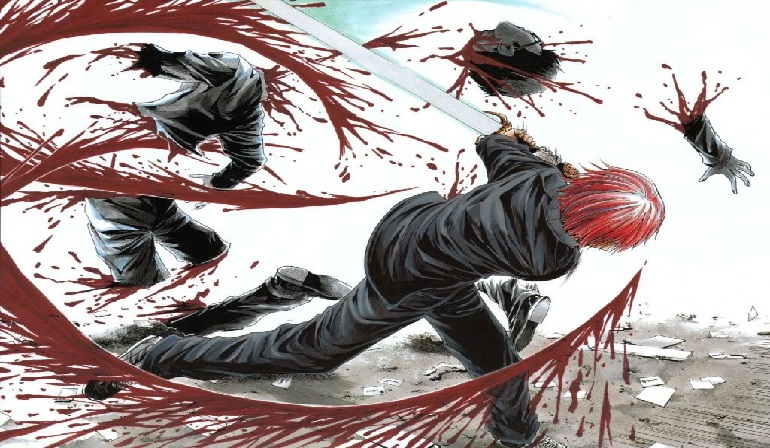 Blink Blade
[
edit
]
"
If you can hit me, I'll let you pass, but trust me, hehe, you wont hit me.
"
—Unknown, Human Blink Blade
A Blink Blade is a person who uses spring attack and other feats to their full potential. Disappearing into combat and then suddenly surrounded by corpses, Blink Blades can be terrible foes.
Becoming a Blink Blade
[
edit
]
Fighters and Rogues tend to become Blink Blades. The most important ability for a Blink Blade is dexterity, which gives him more attacks of opportunity. The next abilities would be Strength then Constitution.
Entry Requirements

| | |
| --- | --- |
| Base Attack Bonus: | +3. |
| Skills: | Tumble +6. |
| Feats: | Combat Reflexes, Spring Attack, Deft Opportunist, Tumbling Feint. |
Hit Die: d8

Level
Base
Attack Bonus
Saving Throws
Special
Fast Movement
Fort
Ref
Will
1st
+0
+1
+1
+1
Blink Attack, Fast Movement
+10ft
2nd
+1
+1
+2
+1
Tumbler
+20ft
3rd
+1
+2
+3
+2
+20ft
4th
+2
+2
+4
+2
Blur
+30ft
5th
+2
+3
+5
+3
Greater Blink Attack, Greater Dodge, Greater Dexterity
+30ft
6th
+3
+3
+6
+3
+40ft
7th
+3
+4
+7
+4
Greater Tumbler
+40ft
8th
+4
+4
+8
+4
+50ft
9th
+4
+5
+9
+5
Greater Blur
+50ft
10th
+5
+5
+10
+5
Perfect Reflexes
+60ft

Class Skills (4 + Int modifier per level)
Balance, Climb, Jump, Swim, Tumble.
Class Features
[
edit
]
Fast Movement: A Blink Blade gains increased speed, wearing any armor.
Blink Attack: A Blink Blade can use the feat "Spring Attack" more effectively. He no longer needs a 5ft start to use Spring Attack, and can still use this feet while wearing heavy armor.
Tumbler: A Blink Blade is an avid tumbler, and doesn't invoke attacks of opportunity when tumbling through an enemy square.
Blur: At 4th level, a Blink Blade appears blurry, because of his incredible speed. This grants him a 20% miss chance as long as he isn't flat-footed.
Greater Blink Attack: At 5th level, a Blink Blade increases his expertise in attacking while moving. He can now attack up to 3 times when doing a spring attack.
Greater Dodge: Also at 5th level, a Blink Blade gains a +2 to ac from his "Dodge" Feat. He can also designate multiple targets, as long as they are all with 20ft.
Greater Dexterity: At 5th level a Blink Blade adds half his Blink Blade level to his dexterity, rounded down. A Blink Blade looses this enhancement while wearing heavy armor however.
Greater Tumbler: At 7th level, a Blink Blade no longer invokes attacks of opportunities when tumbling through an enemy square. Instead, he gains an attack of opportunity on a creature when he tumbles through their space. This still counts against the Blink Blade's attacks of opportunity per round.
Greater Blur: At 9th level, a Blink Blade's "Blur" effect increases to 40%.
Perfect Reflexes: At 10th level, a Blink Blade can do double his normal amount of attacks of opportunity each round. This also doubles the amount of attacks of opportunities from the feat "Combat Reflexes".
Ex-Blink Blades
[
edit
]
Campaign Information
[
edit
]
Playing a Blink Blade
[
edit
]
Combat:
Advancement:
Resources:
Blink Blades in the World
[
edit
]

NPC Reactions:
Blink Blade Lore
[
edit
]
Characters with ranks in can research to learn more about them. When a character makes a skill check, read or paraphrase the following, including information from lower DCs.
| DC | Result |
| --- | --- |
| 11 | . |
| 16 | . |
| 21 | . |
| 26 | . |
Blink Blades in the Game
[
edit
]
Adaptation:
Sample Encounter:
EL whatever:
---
Back to Main Page → 3.5e Homebrew → Classes → Prestige Classes