Snark (D20 Modern Equipment)
From D&D Wiki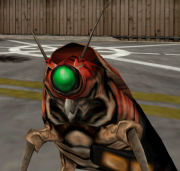 | | |
| --- | --- |
| Size | Tiny |
| Critical | 20 |
| Range Increment | 20ft |
| Type | — |
| | Weapon |
| --- | --- |
| Purchase DC | 40 |
| Restriction | Mil (+3) |
| Damage | 2d6 |
| Rate of Fire | S |
| Magazine | 5 sack |
| Weight | 1 1/2lbs |
| Scope | — |
These cute little creatures — also sometimes known as "Squeaks" — can be used as organic grenades. When thrown, they'll run across the ground in a straight line bouncing off the walls (like the tau cannon). When you release the snark and it goes to a straight line it will bite anything in its path (only once for inanimate objects and some xen aliens such as xen grunts and vortigaunts). When you release it, it will seek out human enemies (human enemies include zombies) and then repeatedly jump on them and bite them. There is no secondary attack option. You can carry up to 15 Snarks at a time, and you can release them all at once to cause a tremendous amount of chaos. The pitch of a Snark's chirping will rise over time, and after ten seconds they will self-destruct in an acidic burst dealing 1d6 damage. A word of warning - Snarks will not attack most Xen aliens, and if a Snark does not sense a nearby human target they will turn on whoever released them.
Snarks only have 2 health points so any of your weapons can kill them in a single shot; this is easier said than done though as they run and jump around so fast. Furthermore, Snarks always die in small acidic explosions, so it is preferable to kill them when they are still distant. The acidic burst is less damaging than a bite though, so it is worth taking some damage in order to end their attack.
---
Back to Main Page → d20 Modern → Equipment
Back to Main Page → D20 Modern → Campaign Settings → Half-Life → Equipment.