In a matter of hours D&D Wiki be down for an extended period of time to perform necessary hardware upgrades.
These hardware upgrades should address user's concerns including Talk:Main Page#Web Page Not Found Error and the database access times when saving, moving, and deleting pages. Please stand by.
M7057 Flamethrower (D20 Modern Equipment)
From D&D Wiki
M7057 Flamethrower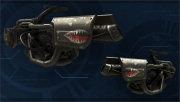 PL 7 UNSC, Misriah Armory
Pyrosene-V
The M7057/Defoliant Projector aka Flamethrower, is a UNSC heavy ground weapon which projects and ignites volatile, semi-liquid, fuel.
Heavy Weapon (Exotic Firearms Proficiency)
| | | | |
| --- | --- | --- | --- |
| Damage | 5d6 | Magazine | 10 Int |
| Critical | - | Size | Huge |
| Damage Type | Fire | Weight | 50 lb. |
| Range Increment | 20 ft. | Purchase DC | 20 |
| Rate of Fire | A | Restriction | Mil (+3) |
M7075 Flamethrower
[
edit
]
The M7057 Flamethrower is a rare weapon in the UNSC. It is too heavy for humans to wield without a tripod or stand, however spartans, brutes and elites are strong enough to wield the M7057 Flamethrower- a character with strength 18 or higher can rip the gun from it's mount and use it as he would use a rifle, treating it as an oversized weapon. The Flamethrower is a very unique weapon. The Autofire option of the Flamethrow instead effects a 20ft Line instead of a 10x10 ft area. Everyone in the area receives a Reflex save for half, DC 18. If anyone within the area fails the reflex save they are set on fire, and take an additional 1d6 damage per round, can be put out as a full round action. The weapon is only effective within twenty feet, outside of which it is harmless.Firing the weapon in two consecutive rounds overheats it, preventing it from being fired for one round. Reloading the canister takes two rounds.
See this page for background information.
---
Back to Main Page → D20 Modern → Equipment.
Back to Main Page → D20 Modern → Campaign Settings → Halo → Equipment → Weapons.