Kitchen, Pantry, and Fridge/Freezer (Hope Supplement)
From D&D Wiki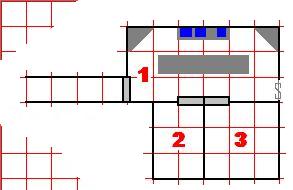 Kitchen (Area 1)
[
edit
]
Pantry (Area 2)
[
edit
]
Originally used as a storage area for perishable foodstuffs, this room has been magically enchanted to preserve any organic items indefinitely.
The kobold invaders have taken advantage of this room by storing mounds of bloody meat from dozens of kills. The meat is room temperature and covered with insects (which the kobolds view as added flavor).
Luknec, a very hungry kobold, has sneaked into this room to steal a few bites from the meat stores. (Standard Kobold Stats)
Fridge/Freezer (Area 3)
[
edit
]
This room has been magically enhanced to constantly be at just below freezing and was used by the original Dwarven owners as a refrigerator/freezer for meats.
The Kobold invaders have turned this into a torture room using the meat hooks to hang prisoners and as punishment for their own people. Currently there are two people in the room; the first, a kobold that has started to doubt the divinity of Karventh named Fubjit, has been here a few days and is very weak (down to 2 hps and dropping fast). The second, a young human adventurer named Duriel who was captured in the underdark a few days journey from the outpost, has only been in here a few hours. Both have their hands tied behind their backs and are hanging from a meat hook attached to a rope and are just able to touch the ground.
Encounter List
[
edit
]
Luknec: Standard Kobold, area 2
---
Back to Dungeons and Dragons->Campaign Settings->Hope->Adventures->Dwarven Seaside Outpost.