In a matter of hours D&D Wiki be down for an extended period of time to perform necessary hardware upgrades.
These hardware upgrades should address user's concerns including Talk:Main Page#Web Page Not Found Error and the database access times when saving, moving, and deleting pages. Please stand by.
HECU MP5 SMG (D20 Modern Equipment)
From D&D Wiki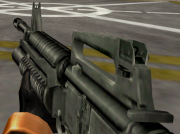 | | |
| --- | --- |
| Size | Medium |
| Critical | 20 |
| Range Increment | 40ft (SMG) / 30ft (Grenade Launcher) |
| Type | Ballistic/Special[1] |
Weapon
Purchase DC
18
Restriction
Mil (+3)
Damage
2d6
Rate of Fire
A
Magazine
50 box (9mm ammo)
1 internal (grenade)
Weight
8lbs
Scope
—
↑

Damage depends on grenade used
The H1 SMG is the favored weapon of HECU troops. It fires automatic, high velocity, armor piercing rounds. It use the same ammunition as the 9mm H1 Pistol except for the fact that it uses a different clip, and so the pistol rounds are not able to be loaded into the weapon efficiently. Due to kickback, the weapon becomes very hard to control after 2 rounds of sustained fire. After these two rounds, the range increment is halved until the user takes a round to regain accuracy. There is a grenade launcher attached directly underneath the barrel. Grenades fired from this launcher have a range of 30 ft, and travel in an arc. It takes a standard action to reload the grenade launcher. It takes a full round action to reload the clip.
---
Back to Main Page → d20 Modern → Equipment
Back to Main Page → D20 Modern → Campaign Settings → Half-Life → Equipment.