In a matter of hours D&D Wiki be down for an extended period of time to perform necessary hardware upgrades.
These hardware upgrades should address user's concerns including Talk:Main Page#Web Page Not Found Error and the database access times when saving, moving, and deleting pages. Please stand by.
Glo-Gleb (3.5e Deity)
From D&D Wiki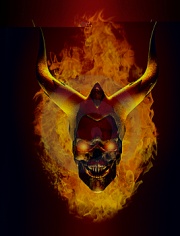 | | Greater Deity |
| --- | --- |
| Symbol: | skull bathed in flames |
| Home Plane: | fire |
| Alignment: | lawful evil |
| Portfolio: | dark humans, destuction and death |
| Clergy Alignments: | lawful evil |
| Domains: | law, evil, death, destuction, fire. |
| Favored Weapon: | painbringer warwhip |
Glo-Gleb is a diety of destruction who rules humans and only humans. He is Lawful Evil.
Any temple entered by a non human sentient creature is destroyed along with any priests there unless the creature is sacrificed within 24 hours. All sacrifices are done by fire. All other races must be exterminated.
Clergy and Temples
[
edit
]
Human clerics who sacrifice animals and slaves daily.
---
Back to Main Page → 3.5e Homebrew → Deities → Greater