In a matter of hours D&D Wiki be down for an extended period of time to perform necessary hardware upgrades.
These hardware upgrades should address user's concerns including Talk:Main Page#Web Page Not Found Error and the database access times when saving, moving, and deleting pages. Please stand by.
Geography and Environment (Simiran Supplement)
From D&D Wiki
Navigation Menu
Player Info
DM Info
World Reference
---
Add New Page
Simiran's Regional Features

[

edit

]
Simiran is a small sized continent, covered by a huge range of geographic features. It is broken into Northern, North-Central, South-Central, and Southern sections.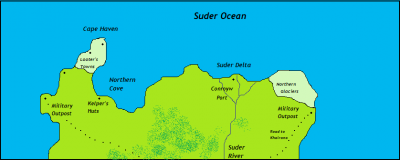 Northern Quarter
[
edit
]
The North-Western eighth of Simiran is cold and snowy for approximately 15 of the 25 months, and is barren for the 5-6 of these months. It includes Suder Delta, Molken River and Lake, and the western portion of the Northern Coast.
The majority of the North-Eastern area is even colder than the North-West. It contains the Spernaza Sea, Cape of Fortune, and the large continent-island of Iklavia.
Northern Coast
[
edit
]
The Northern Coast of Simiran is filled with shipwrecks, kelping vessels, and nomadic traders. The barren, icy coasts form a frozen atmosphere which makes the massive beaches seem like a frozen desert, and the shores are often below 5HL. It is a place of hope and despair, of wealth and hunger, and of life and death. Characters residing and playing here will find themselves at risk of hypothermia and starvation.
Molak Lake/River
[
edit
]
This giant lake dominates central and northern Simiran and feeds from a river through Khalrana, and into the Suder Delta to the Ocean.
Nourishing Delta
[
edit
]
At the meeting place of the Molak River and the Northern Suder Sea, a gigantic delta is formed, giving life to thousands of species of unique animals, with thousands more undiscovered. Because of the warm water flowing from Molak Lake, it is the warmest area in the far north and leads to a sharp clash with the icy cold northern seas.
Cape Haven
[
edit
]
Ironically named, this cape in the Northern Coast is stormy year-round, and has sunk dozens of military and trading vessels. Perched on the far northern tip of the world, it is constantly either frozen over, riddled by atmospheric storms, or both. It is a treacherous area for ships, and skeletons of shipwrecks line the coast.
Northern Cove
[
edit
]
This large cove is abundant with fish and cold-water seaweed, creating a perfect environment for kelp harvesters, which live on the shores of the Northern Coast. It is also populated by nomads seeking refuge from the cold in the kelp boom towns.
Iklavia's Regional Features
[
edit
]
This large island city-state became a boom town near the end of the Golden Ages, shipping dozens of vessels weekly filled with kelp harvest and valuable minerals. However, the economy collapsed due to a sweeping plague which began the Dark Ages, leading to its abandonment. Now, parasitic creatures roam the island looking for prey in the few inhabitants that remain.
At its peak, Iklavia had thousands of miners, harvesters and their families living in settlements around the area. Wooden shacks are all that remain, along with outcasts and criminals, scum who have been forced to leave the mainland. The cities and towns are dirty and frozen unburied corpses litter streets and shuttered morgues. Adventures be warned of the men who inhabit this broken land.
Simiran refuses to take over the island as official territory, but maintains power to manage the current quarantine. All trips to the island are private vessels as Simiran's government advises no one enter the island.
Environments
[
edit
]
Northern Coastal Environment
[
edit
]
The shipwreck riddled Northern Coast takes an icy toll on travelers. With temperatures on the icy deserts and beaches often below 0 HL, hypothermia is a constant possibility. Unless the travelers are near a kelp town, starvation is also a constant threat in the frozen environment. Characters best bring food, thick clothing, and adequate supplies, as there is little to extract from this frozen coast.
---
Back to Main Page → Dungeons and Dragons → DnD Campaign Settings → Simiran