In a matter of hours D&D Wiki be down for an extended period of time to perform necessary hardware upgrades.
These hardware upgrades should address user's concerns including Talk:Main Page#Web Page Not Found Error and the database access times when saving, moving, and deleting pages. Please stand by.
Fog Affective Disorder (The Blackroot Falls Supplement)
From D&D Wiki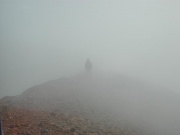 Fog affective disorder, is mental disorder characterized by dramatic changes or extremes of mood, thought to be caused by the persistent presence of highly dense low-lying clouds in Foghaven. Fog affective disorder may include manic (elevated, expansive, or irritable mood with hyperactivity, pressured speech, and inflated self-esteem) or depressive (dejected mood with disinterest in life, sleep disturbance, agitation, and feelings of worthlessness or guilt) episodes, and often combinations of the two.
Local apothecarists, anatomists, and physicians have proposed a number of causes (minute chemical presences in the fog, vitamin deficiencies from lack of exposure to sunlight, etc.) and cures, however, none have proved effective explanations or treatments.