Elf, Shadowmoor (4e Race)
From D&D Wiki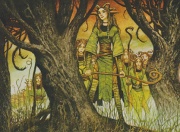 The imperious and vain Reth of Lorwyn find themselves humbled but heroic in Shadowmoor. Whereas Lorwyn's Reth sought to judge and subjugate others, Shadowmoor's Reth are the world's last hope—seekers and protectors of beauty and light in a dark, ugly place.
Racial Traits
Average Height: 5´4˝–6´0˝
Average Weight: 130–170 lb.
Ability Scores: +2 Dexterity, +2 Wisdom
Size: Medium
Speed: 7 squares
Vision: Low-light
Languages: Common, Elven
Skill Bonuses: +2 Nature, +2 Perception
Elven Weapon Proficiency: You gain proficiency with the longbow and the shortbow.
Forestwalk: You ignore difficult terrain that's the result of trees, underbrush, plants, or natural growth.
Dawnglove Infusion: You gain two additional healing surges per day.
Fey Origin: You are considered a fey for effects relating to creature origin.
Reth see beauty as something sacred and needing of protection in the horrific world. As such, some make it their life's work to find the few remnants of it around the world, despite the dangers. They refer to these objects as hallowhelds.
Play an Reth if you want...
To be of a race that tries to preserve a ray of hope.
To be a member of a race that favours the Cleric and Ranger classes.
[edit]
Physical Qualities
Lorwyn Reth are tall and thin. They have ram-like horns (males' horns being longer than females') and cloven hooves on their feet. Unlike any other known race of Reth, they have relatively short life spans of about 30 to 40 years.
[edit]
Playing an Reth
A Shadowmoor Reth seeks to destroy all evil. They are not afraid of darkness and are protectors of beauty.
<!-Your race-> Characteristics:
Male Names: Eidren, Gryffid, Rhys
Female Names: Maralen, Valya
[edit]
Reth Adventurers
Three sample elf adventurers are described below.
---
Back to Main Page → 4e Homebrew → Races