In a matter of hours D&D Wiki be down for an extended period of time to perform necessary hardware upgrades.
These hardware upgrades should address user's concerns including Talk:Main Page#Web Page Not Found Error and the database access times when saving, moving, and deleting pages. Please stand by.
Dungeon Master's Guide (2e AD&D)
From D&D Wiki
Dungeon Master's Guide
[
edit
]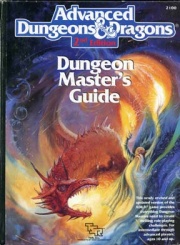 Hardcover: 192 pages
Publisher: TSR; Rev Upd edition
Release Date: June 1989
Language: English
ISBN-10: 0880387297
ISBN-13: 978-0880387293
Product Dimensions: 11.1 x 8.4 x 0.6 inches
Shipping Weight: 1.2 pounds

Information from Amazon.com.