Chuck Norris (3.5e Deity)
From D&D Wiki
April Fools!

This content is not designed for use in
regular games, and may affect overall
balance and gameplay. Take caution
when using this material.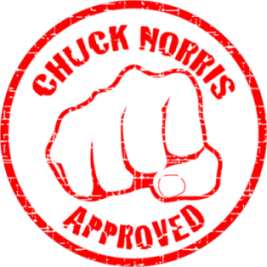 | | Overdeity |
| --- | --- |
| Symbol: | A Roundhouse Kick |
| Home Plane: | Plane of never-ending Ninjas (Chuck's Personal Plane) |
| Alignment: | See Text |
| Portfolio: | Fighting, Courage, Free-Will, Police Officers, Roundhouse Kicks |
| Clergy Alignments: | Awesomeness |
| Domains: | Creation, Charm, Destruction, Glory, Strength, War |
| Favored Weapon: | Roundhouse Kick |
Chuck Norris is the most powerful god of all time. In fact, he controls time. He is very free-spirited, and does what he wants, when he wants. One week he may be helping little old ladies cross the street, another he may cause earthquakes and floods just for his amusement. Chuck Norris' age is infinity plus one. He has no alignment because no alignment can fit his awesomeness.
Chuck Norris is the most open-minded of the gods, almost to a point that he is uncaring. It is almost impossible to be alienated by Chuck Norris because he doesn't care what you do. You can burn down a whole village: He's burnt down thousands (trillions, actually). You can save a kitten from a tree: He's saved thousands (again, trillions). Just don't do anything directly to him. If you do, you won't live to regret it.
[edit]
Clergy and Temples
Chuck Norris has no real temples. When he visits the Material Plane (which is rare), he builds his own temple with his bare hands. Typically, a week after it is formed, it is destroyed and Chuck returns to his home plane. No temple is good enough for him, and he kills worshippers who do build temples, and he always knows, always.
[edit]
The Power of the Roundhouse Kick
Chuck Norris is the only person that is able to roll a natural 21.
Chuck Norris won at D&D. He has literally and figuratively "beat the game".
There is no DM, there is just Chuck Norris.
Chuck Norris does not get hurt when he steps on a d4.
It was originally called "Dungeons and Chuck Norris".
Chuck Norris beat pun-pun in a fight. It took just one roundhouse kick.
On his birthday, Chuck Norris randomly selects one lucky tarrasque to be thrown into the sun.
Chuck Norris may cast spells as Maximized without increasing the spell level.
Chuck Norris can roll a d3. In fact, he invented them.
One Chuck Norris roundhouse kick has an instant death property with a DC save of infinity.
Chuck Norris is the cause for the goblin population increase, he once hosted a party at a goblin cave and all the goblins within 7 million miles became pregnant, including the guys.
Chuck Norris can not only roll and quantify a d1, but he can make it come up as 2.
Chuck Norris can make a badass halfling bard.
In addition to making the d1 Chuck also created the d-infinity for damage from his roundhouse kicks.
Chuck Norris can actually sneak attack undead.
Chuck Norris has damage reduction ∞/Bruce Lee.
Chuck Norris' Roundhouse Kick is vorpal.
No DM can calculate Chuck Norris' challenge rating.
Chuck Norris is allowed a saving throw against Harm.
Chuck Norris does not provoke attacks of opportunity. They provoke him.
Chuck Norris has all divine salient abilities and powers, even though he doesn't need them.
Chuck Norris can Take 40.
Chuck Norris never needs to take 20. It willingly gives itself to him.
Staring at Chuck Norris for extended periods of time can result in blindness, and possibly foot-sized bruises on the face.
If you are absurdly lucky (1258 on a d10), you can use a wish spell to remove one of his beard hairs. Needless to say, you won't survive the next ten seconds.
The Astral Sea is Chuck Norris' bathroom. The demiplanes are actually floating turds.
Chuck Norris can decide how many hit dice YOU have.
Soviet Russia can not perform russian reversals upon Chuck Norris. Chuck Norris performs russian reversals upon THEM!!
Chuck Norris can actually roundhouse kick you from another plane of existence.
Chuck Norris' Roundhouse Kick does 100d20. (That's how many people it kills)
---
Back to Main Page → 3.5e Homebrew → Deities → Over