Anura (3.5e Deity)
From D&D Wiki
Attention!
This page contains adult content which some may find offensive.
Do not view this page if you are a minor or are offended by such material.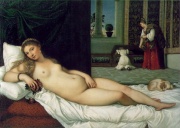 Anura is a young looking woman with big, dark, blue eyes and long golden-blonde hair. She usually wears nothing, but sometimes wears a white silk body wrapping with a pure gold leaf trim. She is very beautiful and kind. She lives with her fey (esp. siren and pixie) bodyguards and subjects in a great misty forest. No mortal man has ever seen her fabled lands, but many have tried and failed, for they have heard rumors that if they do find Anura's forest that every day they will have all the wine and delicious foods they want and ten sirens to obey their ever whim.
[edit]
Clergy and Temples
Anura has a few scattered shrines, all inhabited by women clerics and sorcerers.
---
Back to Main Page → 3.5e Homebrew → Deities → Demigods