9mm Overwatch Pistol (D20 Modern Equipment)
From D&D Wiki
9mm Overwatch Pistol

[

edit

]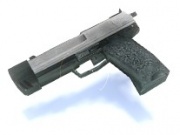 | | |
| --- | --- |
| Size | Small |
| Critical | 20 |
| Range Increment | 30ft |
| Type | Ballistic |
| | Weapon |
| --- | --- |
| Purchase DC | 16 |
| Restriction | Lic +1 |
| Damage | 2d4 |
| Rate of Fire | S |
| Magazine | 18 rounds |
| Weight | 4lbs |
| Scope | — |
| Fire Underwater | yes |
9mm Overwatch Pistol
[
edit
]
The 9mm Overwatch Pistol is the standard issue weapon for Civil Protection teams, along with the stun baton.
Unlike other weapons which use magazines, the 9mm Overwatch Pistol takes a standard action to reload.
Due to the low velocity of the pistol rounds, it deals no damage against anything with a hardness over 5 or a natural armor bonus over 3.
---
Back to Main Page → d20 Modern → Equipment
Back to Main Page → D20 Modern → Campaign Settings → Half-Life → Equipment.